Journalism recognized for hard work
Introductions.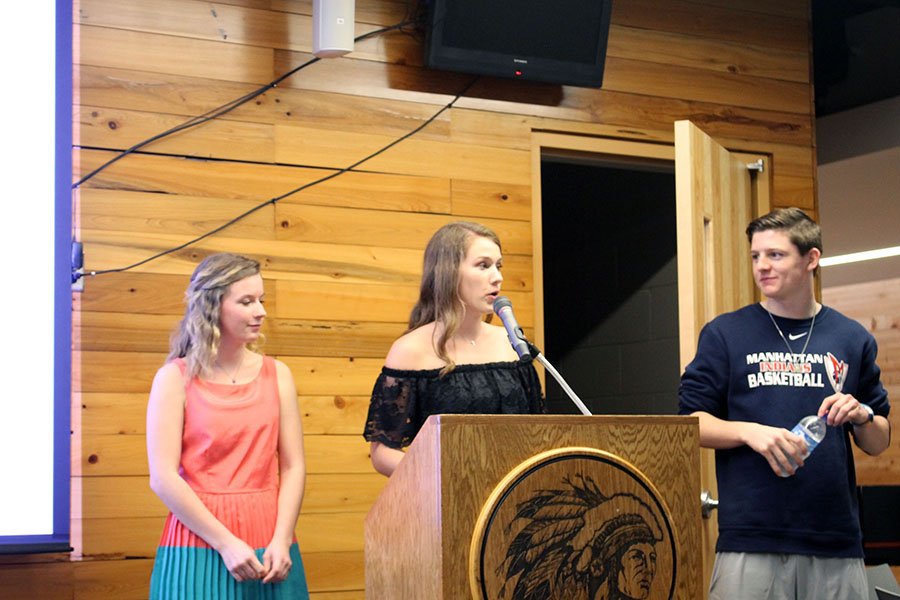 All-Kansas.
Those two words are the highlight of any student journalist's year. They symbolize all of the hard work they have put into their publication and shows that others think they did a great job.
"Sophomore year I set a bunch of goals for what I wanted for the publications," The Mentor Editor-in-Chief Angie Moss, senior, said, "and All-Kansas was at the top of that list for The Mentor and for the yearbook. Achieving it this year was also really important because I was the Editor-in-Chief this year. It was just like achieving all my goals, which is pretty great, and it also means we're one of the best newspapers in the state."
This is the second year in a row The Mentor received All-Kansas recognition. All-Kansas represents the best in the state according to the Kansas Student Press Association, while All-American is the same for the National Student Press Association.
Manhattan learned this year that last year's Mentor received All-American status. Though the editorial staff has changed, some editors have worked both years.
"It's super crazy that we would win All-Kansas and All-American within the same year," Moss said, "especially our first time entering All-American. We've entered for All-Kansas pretty much all four years that I've been here … [but] we had never submitted for All-American because we weren't ever an NSPA member before last year. It was just like super rewarding and super eye-opening and really surprising that we would get All-American."
Though The Mentor took most of the awards, the Blue M was not left out. Much like The Mentor, last year's Blue M won All-American.
"It was kind of surreal," Blue M Editor-in-Chief Megan Klug, junior, said. Klug was sports editor of the book last year. "I'm Editor-in-Chief this year, so it was good to see the potential that we have, and the potential that our staff has."
Members of the staff also placed at this year's KSPA state writing competition. Klug got third place for her yearbook theme and development.
"It was crazy," Klug said. "When I saw that I got third on Twitter, I just was shocked because it was the highest placing for our staff and I definitely wasn't expecting it. [With other members of the staff placing,] it was really nice to know that what we're doing with our own staff is recognizable throughout the state."
The Mentor also went to the KSPA state writing competition, with Moss winning Honorable Mention for her news story.
"I've qualified for state all four years, but I've never placed at state," Moss said. "Placing in [news writing] at state was also like, super crazy and it was just a really good way to end high school, because that was also one of the goals I set sophomore year."
Senior Jordan Lutz and junior John Ostermann received Honorable Mention for their yearbook sports stories at the KSPA state contest. Ostermann, along with seniors Chandler Mixon, Gavin Larios and Hans Ahorro, won Honorable Mention for their multimedia package.
Throughout the year, members of both staffs took home story of the month awards given out by KSPA. These were stories written for The Mentor or Blue M over events that happened at MHS.
"It's really rewarding to see people that you work with everyday get acknowledged for their success and for improving throughout the year," Klug said.
Seeing these awards is validation for all the hard work put into The Mentor and the Blue M.
"The cool thing about being Editor-in-Chief is that you get to help teach people everything," Moss said. "Me working with everyone on everything every single day gets to be exhausting, and seeing the [awards] that they get … is super rewarding and it just makes me super proud, not only for the publication, but for the individual people."