Soccer kicks into sub-state
Hang on for a minute...we're trying to find some more stories you might like.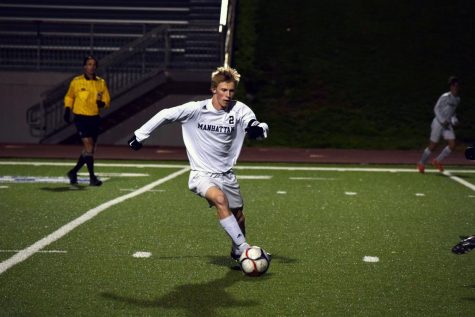 The Manhattan High boys soccer team has won 11 straight games, making them the winningest team in school history. Not that this is news, as they've been breaking records the entire season. They didn't falter at all heading into the postseason, promptly sweeping through regionals without allowing a goal. MHS defeated Junction City 9-0 to start off and went on to beat Derby 1-0 for the second time this season.
The rest of their path to a state championship is littered with obstacles, however. The boys are ready for the challenge and are going to take it head-on.
"We just have the mindset that every team we play will be a challenge," senior Nate Awbrey said. "We have to know that every team wants to get there and win it all, so we have to come prepared every day to get everyone's best shot."
There is a lot on the line for the team here at the end of their season, because most of the team is seniors and now they have a chip on their shoulders as the boys are able to boast quite a few records.
"There are some nerves," senior Josh Bussmann said. "But I think I'm excited more than anything."
The history the team has made this season isn't something they take for granted, but it's not something that happened by accident.
"I think of it as all part of the process," Awbrey said. "From the beginning we have been trying to be the best possible team we could be and those records have come along with all the work we've put in."
Even in the postseason, the boys are trying to push themselves even more, because they want to keep the edge they've had since the start of the year.
"We try to up the intensity [in the postseason]," Awbrey said. "So we can sharpen everything up before our next opponent.
They've had their minds set on one goal that seems to be a common theme for them this season, and they get one step closer with every game they win.
"We still have our eyes on our main goal," Bussmann said. "And that's a state championship."
They'll have the sub-state final tomorrow against Wichita North. If they continue to win, the championship game will be on Saturday.