Cross Country competes at state
Hang on for a minute...we're trying to find some more stories you might like.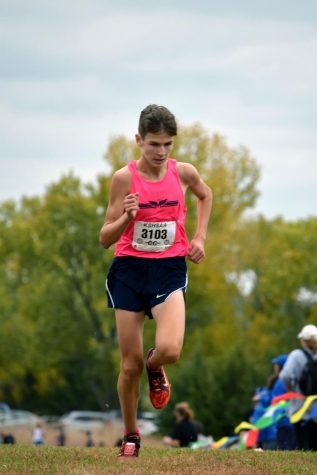 After Varsity boys and girls won the Regional Championship at Milford last Saturday, they traveled to Rim Rock Farm to compete for the State title. Varsity boys placed second and Varsity girls placed fourth out of 12 teams and 20 individual qualifiers that participated.
The Cross Country team had a successful season to add on to their eighth consecutive league titles, regional championship and high score at State, and many personal records were made. They have made some huge accomplishments and grown together as a team.
"It was a really fast meet and our girls did really well," senior Avery Dewolf said. "We came in to State ranked fifth and finished fourth so we were really proud of our efforts. Almost all of us ran season bests and left it all on the course."
"I got second individually and beat my PR by 25 seconds. It was a little hard because it was super cold and we were competing with some talented runners," junior Clara Mayfield said.
With cold weather and hard competition, the team felt more proud of themselves with the times and scores they achieved.
"I was very happy with how the boys team ran. Our second to seventh runners all had season bests and we ran super tough. I was a little disappointed how I placed individually but looking back on how our team ran it was still a good day," senior Cooper Schroeder said. "Unfortunately the team that beat us [Olathe North] also had an amazing day as well. Overall it has been a fun season running with these guys and we will have friendships that will last a long time."
Even though they did not win the state title, MHS still used teamwork and their dedication to running to stay positive.
"Going into the state meet, I knew our team wouldn't disappoint, because knowing that your team would go out and race with everything they've got is something you can always count on, even if we didn't win," junior Maddie Purdom said.
With the season ending and seniors are graduating, the team is reflecting on how their running careers affects them.
"The years go by so fast, especially if you surround yourself with activities and people you enjoy. I am glad that I chose to stick with cross country," senior Logan Logback said. "On Saturday at state I believe we truly gave the best race that we could. Many of us had personal bests and overall I would say that it was our best race this season. Although we didn't leave with the championship I'm still very grateful that I had the opportunity to run and compete with the team for the last three years."