Spotlight shines on senior men
Hang on for a minute...we're trying to find some more stories you might like.
Popping a wheeling, senior Ben Choi presents his evening wear during the Mrs. MHS pageant competition. Choi impersonated hit movie 'Baby Driver' for his evening wear and reinacted popular game 'Mario Brothers' for his talent portion. The 33rd annual competition featured 10 different competitors, with three different prizes.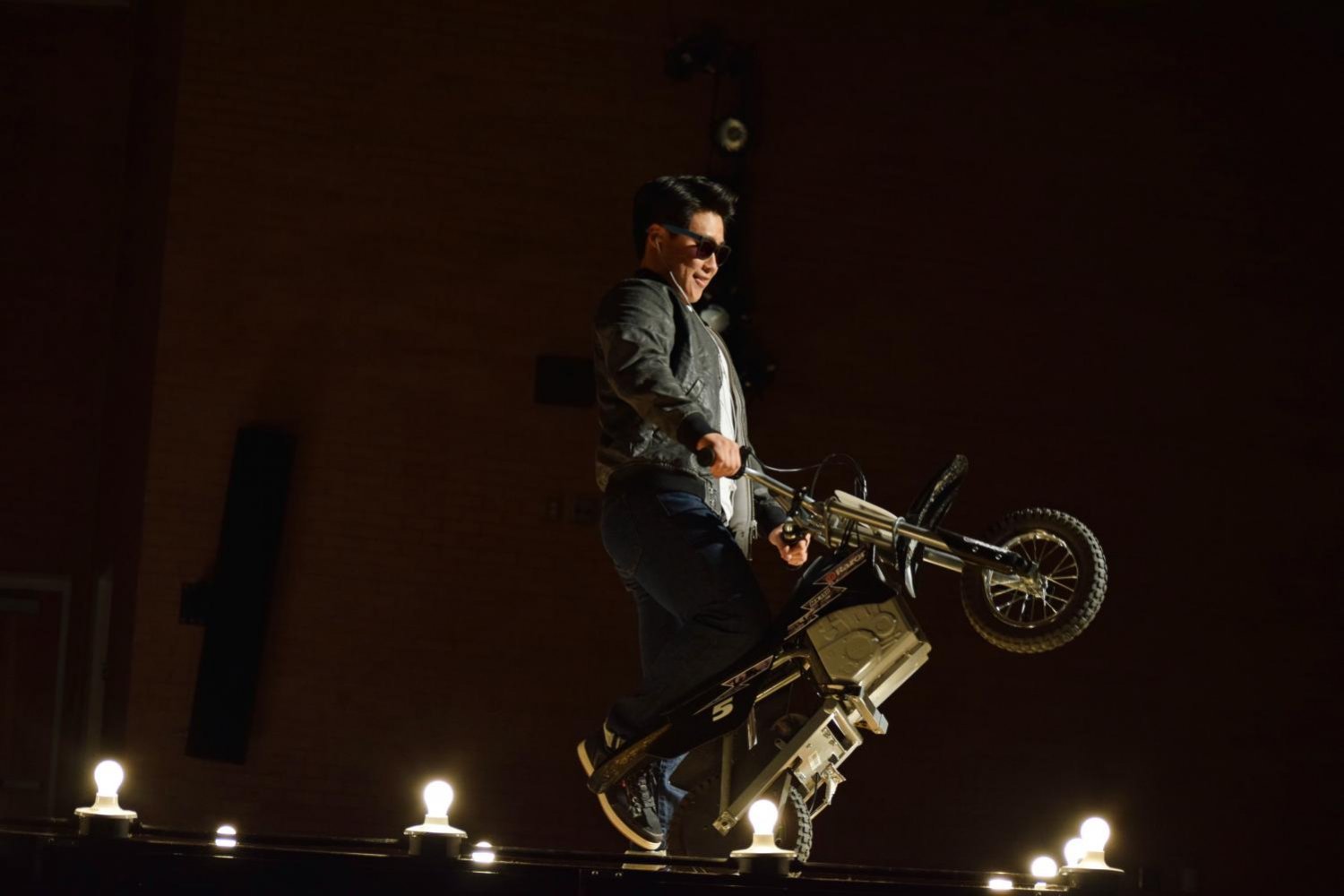 A common tradition at Manhattan High School gives senior men an opportunity to not only show off their talents, but also to bond with a group of peers and give a shot at earning the title Mr. MHS.
Mr. MHS is an annual pageant event, and 2018 marked the 33rd pageant. Rather than abiding to common requirements of most pageants, where all contestants must be women, Mr. MHS strictly features male contestants. This year, seniors Creighton Glasscock, Wyatt Balman, Cooper Schroeder, Noah Shirk, Logan Logback, Jonah Evarts, Ben Choi, Will Erickson, Sam Clark and Harrison Jones all took to the stage for a chance of earning the winning spot.
"As an underclassman I cared too much about what others thought about me and I knew it," Clark said. "So when I saw older guys do PowderPuff and Mr. MHS I thought 'What better way to let go of my inhibitions?'"
The competition features several group and individual performances. The group acts give all the contestants to work as a group and show off their skills as a whole, while individual acts allow contests to be creative and display their own individual skills. Individual acts ranged from dancing and singing to stand-up comedy and live renditions of Super Mario.
"We each had to pick a five-minute talent to perform, and I chose to sing 'A Whole New World' from my favorite movie, 'Aladdin,'" Erickson said. "It went as well as I expected."
Apart from acts and performances, pageants feature more than just talent acts. The event also included an evening wear competition and a swimwear competition. These portions of the pageant allowed contestants to show off their own individual style and aesthetic when it came to a certain type of attire.
"You have to have a certain level of confidence and secureness to emasculate yourself in front of a couple hundred people, so for the most part I wasn't very nervous," Erickson said.
While the point of the pageant is to win the title of Mr. MHS, the concept of competition was overshadowed by the opportunity for the group to bond with one another. The group endured many hours of rehearsing with one another. However, in the end, there had to be the winner. This year, the winner of the 33rd annual Mr. MHS pageant was Logback, who won the judges vote through not only his group performance, but also his entertaining juggling act as well.
"Honestly I was pretty surprised [to win]," Logback said. "I had completely forgotten about the competition. I think I can speak for the others on this too, we were genuinely having a good time and working together as if it were not a competition."