Boys drop third-straight close game
Add Hayden to the list of close losses Manhattan High has suffered this year, the longest list this senior class has seen in their time with the program.
"It's so hard as seniors because we're supposed to be the leaders and we want to show the way for all the younger kids under us," senior John Ostermann said, "especially since we have so many sophomores, but when we've never experienced this many close losses as well, it's hard to lead the way."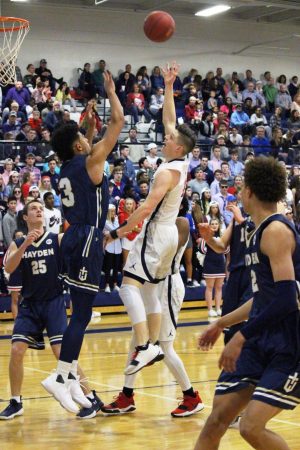 In a story that is all too familiar for MHS (7-7, 2-5 Centennial League), the Indians could not capitalize on their chances late, losing the Homecoming game to Hayden (6-6, 4-3) 64-62 Friday night.
After a back-and-forth beginning, Manhattan began to take control late in the first quarter. Thanks to an all-around effort, the Indians pushed to a 13-point lead late in the half. Three quick points from Hayden gave MHS the 34-24 halftime lead.
"[We were just] being patient on offense and moving the ball," sophomore Raeshon Riddick said. "[It was about] taking our shot and not taking my own individual shot."
Hayden began to claw back in the beginning of the third quarter, but a big play from Riddick slowed its rally. Riddick dove to the floor to keep the ball in-bounds, got up, got the offensive rebound and put it in with a foul for an and-one opportunity, which he converted.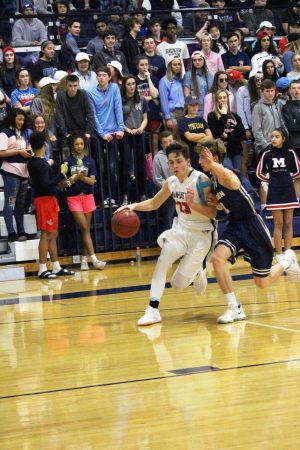 "That's just all-out effort and athleticism," head coach Benji George said. "I mean, those aren't things you can coach, and [with] plays like that, we have a bright future, and he's definitely a part of it."
However, the Wildcats were just getting started. Thanks to lights-out shooting from juniors Levi Braun and Zach Harvey, Hayden turned a 10-point deficit into a two-point lead, going on a 13-1 run to end the third quarter.
"I've seen [Braun] play," Ostermann said, "and if he sees one go through the net, he's going to start knocking them down. Zach is a great player, so you give him open looks, he's just going to knock them down too. We just let them have too many easy looks at the basket when they were on fire."
MHS began slowing Hayden down, not letting the game get too far out of reach. Hayden continued to push though, taking a 63-58 lead with just 40 seconds remaining. The Indians kept fighting, closing the gap to just two points with 13 seconds left.
"If I know one thing about our guys," George said, "it's that we're going to keep fighting. We've been in every ball game here lately against some very, very talented, good basketball team."
Riddick had a chance to tie the game up, but could not make either free throw. After Manhattan knocked the ball out-of-bounds, Hayden had a chance to run out the clock. A travel with six seconds left gave Manhattan life.
With a Hayden timeout to think things over, George drew up a play, looking to get the ball to either Riddick or senior Dawson Stewart. The Wildcats covered both options, leaving the game up to Ostermann. He took a 3-pointer as time expired, getting knocked down in the process. Neither the ball nor the call went Manhattan's way, ending the game.
"We wanted to do a play where we set a back screen for Raeshon up for the lob," Ostermann said. "[Then], we wanted to get it into Dawson…but they broke up the pass to Dawson. I told Nate [Awbrey, senior], 'Throw it up to me if you can't get it in.' He threw it up, and then it was just trying to one-on-one ball from there, and I couldn't finish the play."
Riddick and Stewart were the targets for MHS thanks to their impressive nights, scoring 15 and 12 respectively.
"[That's just] two guys just playing with a lot of confidence right now," George said, "and their teammates recognize that, and they're just, you know, exuding confidence out there on the court."
The Indians return to action Tuesday night, traveling to Washburn Rural (8-5, 5-2). With the recent nail-biting losses, they know they need to stay focused on playing their game.
"We got to stay focused in practice," Riddick said, "no playing around from this point on, especially since playoffs are coming. Just got to be dominant and be there, like my coach says, when the dust is cleared."