Newsies completes dress rehearsal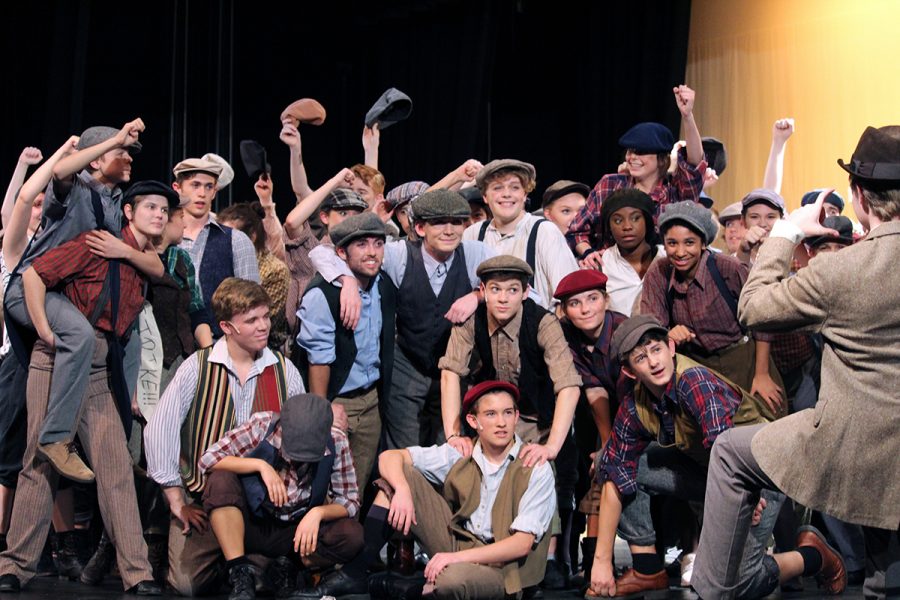 This past week the Manhattan High theatre department has been hard at work preparing for the fall musical "Newsies." The nights of dress rehearsals often went until 10 p.m. or later. The whole cast felt the pressure to make sure everyone and everything was prepped and ready to do well at the opening on Sunday.
"[To prepare, we are] making sure the set is done, and everyone is ready in costumes, makeup and making sure our mics are charged," junior Logan Linenberger said. "There has to be a lot of communication that has to be worked out. Not only the cast members, but also our crews."
The crew of "Newsies" has been busy working on the fall musical since September. The time has come for them to perform the loosely based on the real life story 1899 newsboys strike.
"They form a union and then throughout the show there's also a cute love story going on between Katherine and Jack and I won't spoil too much about that," senior Henry Schinstock said. "[It's] basically just a good story of brotherhood."
Quite a bit of work went into the musical before production even started. The directors had to find a musical that would work for a diverse amount of people in the school, because they did not know how many people to expect at auditions. Then, they had to cast people that would fit the characters they had in the show.
"We have a lot of really energetic students who are also talented singer-dancer-actors, and we thought this would be a good chance to feature a lot of students," stage director Virginia Pape said. "You know, you can always you always look for somebody who just kind of embodies the spirit of a character. And so when you have auditions, it becomes very obvious who is right in that role, who seems like that role."
Cast and crew members expect the audience to see the energy of the production, largely because of the stunts and tricks according to Pape. "Newsies" has a solo performance from physically handicapped character Crutchy, played by Kate Washburn. As well as solo and duo performances from female lead Tess Garvin playing Katherine and main character Jack Kelly, played by Finn Huslig. It's an active and lively performance that Grace Franke.
"Doing the performances in front of people is always just so rewarding and exciting. And that's something that definitely is coming through in this production," senior Grace Franke said."There's always moments where we're on stage and we sort of looked at each other and we know that this is special and it's just so amazing and so electric."
Newsies has already had one performance last Sunday night and will put on another tonight, Thursday, and Saturday in Rezac auditorium at 7 p.m.