Scholars Bowl places second in home meet
With a 6-1 record, Scholars Bowl took home the bragging rights of placing second in last night's Junior Varsity meet hosted at home. MHS trailed first-placing Washburn Rural, and Topeka High rounded out the top three.
"Towards the beginning of the year, our varsity team was consistently placing third and second," Abrar Nasser, freshman, said. "Later on, in the last few meets, we actually started placing first."
The tournament took place at MHS yesterday with Junction City, Salina, Rock Creek, Washburn
Rural, Wamego, Topeka High Flint Hills Christian, Cair Paravel and Highland Park all represented.
With this being the team's second-to-last tournament, there has been a great amount of improvement throughout the season.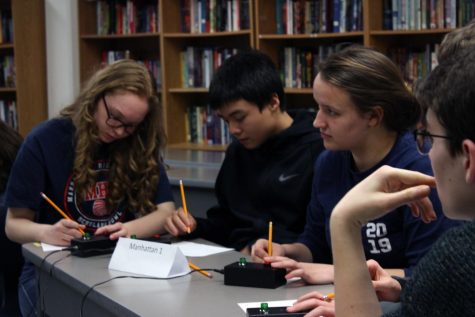 "I think the mistakes were high [during first meet]," Nicole Savage, sophomore, said.
Although Scholars Bowl teams are competing to be the best among other high schools, they are also combatting their own nerves. Confidence is something that some team members have worked on throughout the season.
"I answered a lot more questions at this meet, Savage said. "I'm working to be more confident enough to actually buzz in."
After a long season, which started in early November, many friendships have been formed through their work together that teammates feel will last.
"Honestly, the friends I've made and the inside jokes we've created [are the best parts]," Savage said. "When we get answers wrong it's still absolutely hilarious and then when we get them right we're all there and supporting each other."
Even though this season is coming to an end, some people are already looking toward the next season. Scholars Bowl team members highly encourage anyone interested to reach outside of their comfort zone and try a unique activity that is often overlooked.
"Scholars Bowl is amazing and it's underrated," Savage said. "People don't know about it and I think if people did a lot more people would be involved and people could have a lot of fun with it."