Girls bowling finishes season by placing fourth at State
Throughout the season, Manhattan High bowling suffered cases, such as the infamous "Manhattan Split" that the parents had named for their tremendous amount of splits. However, the team has overcome the case of "The Manhattan Split." After a long season of trial and error that began in November, bowling is now at its peak with both teams making it into regionals and girls going to State. Last week was a very important week for the bowling team, as they were invited into Regionals along with the girls team making it to State.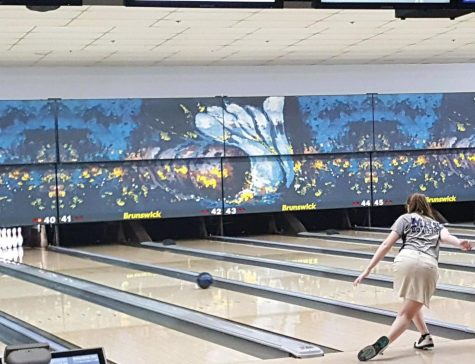 "[Finding out they got into State] was amazing," sophomore Scarlet Napier-Khan said. "We were all so nervous before and then after all of us were so happy, we were smiling and hugging each other and were determined to do our best."
Manhattan High girls finished in fourth out of nine teams. The teams qualified for State were Haysville-Campus (3122); Garden City (2977); Washburn Rural (2788); MHS (2695); Shawnee Mission Northwest (2538); Junction City (2503); Olathe North (2464); Wichita East (2362) and Olathe East (2267). MHS was the ninth seed at State.
"As a team… we had some trouble, but we bowled really good with a fourth-place finish," senior Alexandria Newell said.
Newell was the top bowler for MHS with a 517 series and placed 17th out of the top 20 individuals at State.
"I could say that I did enjoy my performance at State," Newell said. "I could've done better, but I finished with a 517 and it helped us. I'll take what I get."
"I think we had maybe four or five," Newell said. "We did the best we could with them."
Going into State, the team had one major goal in mind: to have fun and do the best that they could. Not only was this goal carried out into State, but throughout the season. Having this major goal has helped the team hugely when it came to teamwork and cheering each other on.
"I would say to have fun and do our best," Napier-Khan said. "I believe we tried our best and definitely had fun. Our teamwork has helped us with that."
Throughout the season, the team has improved but has also made some friends along the way after bowling together for an entire season. They wish for the same going into next year.
"All I have to add is that it was great getting to know everyone," Napier-Khan said. "It was so much fun. I'll never forget it and next year we are going to do better at State."