Key Club hosts junior mental health panel
Mental health is a difficult topic for many, but this year Key Club has made an effort to open up discussion and help make it easier to talk about mental health in depth for Manhattan High students, teachers and staff.
"The opportunity to help others is really important to me and helping others who are struggling with mental health is something that I think we all need to do a better job of," Key Club sponsor Lisa Julian said.
During advisory last Wednesday, the junior class was invited to Rezac for a Mental Health Panel with guest speakers science teacher Clancey Livingston, School Resource Officer Tyrone Townsend, local counselor Jamie Goldberg, alumnus Aaron Julian and senior Forest Effken.
About a month ago, Key Club hosted a Mental Health Panel for the senior class.
"The panel before really focused a lot on moving on to college," Julian said. "This panel really focused on: what do we do now here in this moment to help ourselves and others?"
To construct what was covered at this event, students were asked to generate a list of questions about mental health. From those questions, 150 were typed up and passed out at random so students wouldn't necessarily ask their own questions at the panel.
"I really liked how they had students ask questions," junior Jakobi Hackett said. "I thought that was really helpful, rather than just having like the panelists talk the whole time. It was nice to have interaction with the audience."
Some of the topics touched on during the event were anxiety, depression and stress. Students were informed of different ways to cope with stress and of the resources here at Manhattan High that they could talk to about what they're going through.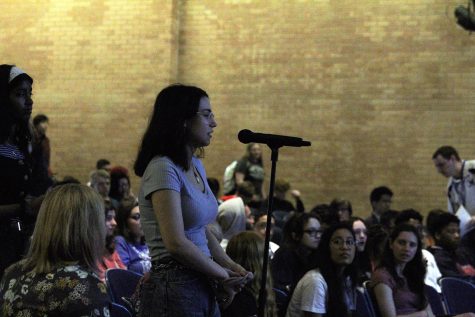 "[My favorite part of this event was] just being able to know [that] a lot of people experience the same things that I've experienced before," junior Isabel Toledo said.
While it's agreed that the Mental Health Panel was successful and that it affected many people, many concur that the event was lengthy and that the audience outcome was "disheartening."
"There are mixed feelings about it," Toledo said. "Overall, I think it's a success for most people, but [for others] I feel like it wasn't, mostly because people took it as a joke … It's more like [our school has] just normalized it to the point [that students] don't really care about it."
All in all, the Mental Health Panel had educational content that students will carry with them.
"I hope that they walked away with a sense that we care," Julian said. "That we don't always know the right answer, but we are going to do whatever we can to help them and that it's safe to have that conversation. And I think that those who needed to hear that message, or I hope that those who needed to hear that message heard."