A Day in the Life of Dorst
New building principal puts title into action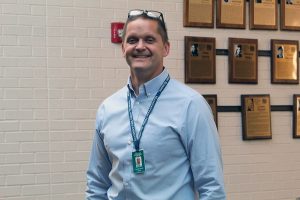 Most of the time, Michael Dorst comes to school early.
Usually, whenever he wakes up is when he leaves for West Campus, but on some occasions he'll be in as early as 4 a.m. As soon as he gets to the building, he'll turn off the alarms that ensure the building's security when no one is inside and he'll go directly to his office — well, to his new office.
If anyone happens to be there before him, he makes sure to give them a "hello."
On go the lights and the computer and into the desk drawer go his car keys. Once his salad is in the fridge and his inbox is checked, the real work begins.
As soon as everyone else gets to the school, Dorst takes busy to a whole new level. If he's not in a private meeting, he's out and about the school, canvassing the area for places where he's needed. Every two minutes there's a new person to talk to, even if the conversation is to the briefest extent.
Despite the overload of work that needs to be done, Dorst knows what he's doing. He's planned for it. He's ready for it. Most importantly, he enjoys it.
"I really enjoyed my staff meeting yesterday," he told me. "I was able to take my vision of how I see the whole puzzle of our high school program coming together and that's enjoyable."
After a closed-door phone call, he opens the door to his office where I have been waiting, and plans his steps for what I'm about to see.
"Are you ready?" he asked.
"Absolutely, let's go."
We've only taken three steps into the hallway when he stops Erin Spreer, one of the sophomore counselors, to tell her that he their plan to speak later was good to go. She's barely walked away when he picks up his walkie talkie — a toy but not a toy — to say "I'll help you later" to the anonymous recipient on the other end. To me, it seems utter chaos to be in that hallway. To Dorst, it's the best place to be.
"There's a lot of good people who do a lot of good things and that's where the trust is," Dorst said. "On my end, it's providing them with [resources] and listening to the needs that they have."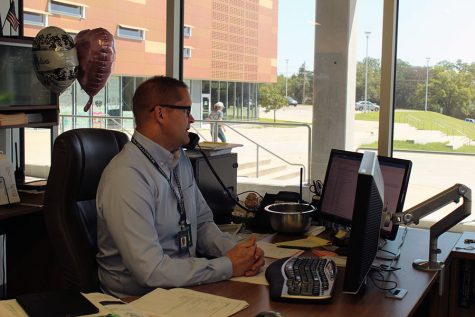 Because he wants to provide teachers with the tools they need to be successful, Dorst said that for now, he loves his office. That's where all the action is. Today though, he'll wish for what he used to have, although he's glad that new assistant principal Benjamin Jimenez is now the current resident.
"When school happens, I'm going to miss my office because you can really feel for the pulse of Manhattan," Dorst said. "Mr. Jimenez really has the best office."
"The pulse of Manhattan" is what Dorst considers to be the best part of being the new face of leadership at MHS, which is why he's centering his goals on making sure every student is not just successful but excited about what they can do after high school.
"There's a long list of opportunities to appreciate our kids and to show them that they're succeeding," Dorst said. "There's a beauty in that and an excitement in that."
As we walk up the office stairs to the Commons, Dorst shows me his favorite spot in the entire West Campus building. We're standing along the corner of the main entrance stairs and "The Alumni Wall of Fame."
He tells me to stand at the corner.
"Can you see where everybody's entering? Can you see where they all eat lunch? Can you see A Hall? What about all the way down to the North Gym?"
At each question I point to a new location and I slowly begin to understand why he loves this specific little spot of white brick and cement floor.
"This is now as close to the heart of the building as you have," Dorst said. "If there's something special happening, you can feel it. This is a good, good place."