MHS Dance prepares to 'break barriers'
Summertime couldn't stop the Manhattan High dance team from rocking their way into the school year, more confident and ready than before.
In addition to practicing in their own time, the dance team attended a week-long camp with the Big Blue Marching Band from July 30 through Aug. 2.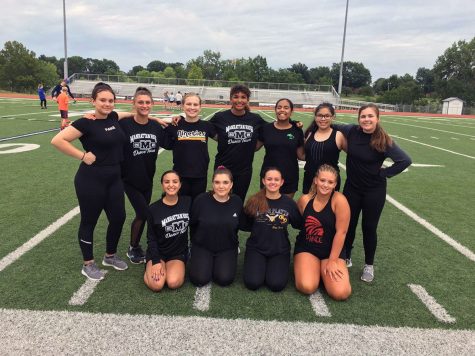 "The band has amazing energy, so the girls really feed off of it," head coach Anna Shields said. "We were able to bring in many choreographers from K-State's dance team so the girls could learn from the best of the best and get a taste of what college dance is about."
The team also hosted a two-day dance camp the following week on Aug. 5 and 6.
"[Summer camps and practices] were tiring and we worked hard but it's always fun and worth it," junior Gabriela Howard, dance captain, said.
As the new year begins, the dancers have established objectives for the group.
"Our team set three goals together," Shields said. "One, to have all splits by the end of the first semester. Two, break barriers. Three, respect the team. My expectations are for each team member is to write down and practice all choreography, so we are able to spend practice cleaning and perfecting the performances."
By persevering throughout the year and "holding each other accountable in order to respect the team," the dancers plan to achieve both one and three together. To break barriers, the team intends to display their skills outside of MHS.
"We plan to break barriers this year by creating a presence not only in our school but also [the] community by volunteering and participating in community outreach projects," Shields said. "Our team recognizes the impact they have on others, especially younger district students that look up to them."
With more performances planned this school year and returning entertainment — such as the Homecoming pep rally — the dancers are excited to finally show off their hard work and promote dance.
"Honestly, more people should try out for dance," sophomore Larissa De Leon said. "Not only does it help you make new friends, [but it also] gives you more opportunities to make memories."