"Rocketman" big, bold, sparkly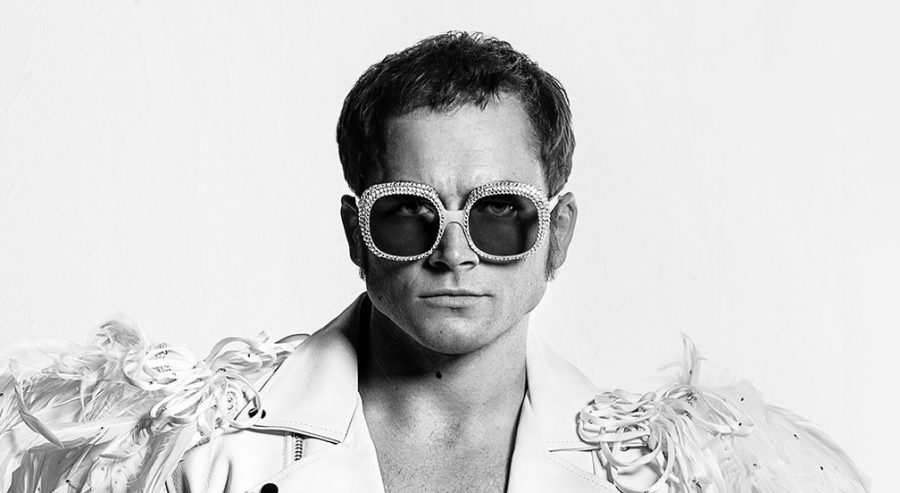 As most of my close friends know, I am a seriously die-hard fan of classic rock and '80's music, which is why no one was really surprised that even before it came out I was dead set on seeing "Rocketman."
When it was released on June 2 of this year, I was there and I was ready — ready to see how Elton John came to be. The very first thing my eyes saw were three things Elton John is best known for: big, bold and sparkly. "Rocketman" was projected in the flashiest silver of all the silvers against the darkest black of all the blacks and I knew right then and there that this movie was going to be not just about Elton John but it was going to look and sound like Elton John too. Boy, was I in for a show.
The opening scene begins with what I assumed to be just before a concert. The camera focuses on a silhouette of Elton, played by Taron Egerton, clearly showing the horns and wings to his bright orange devil costume covered in rhinestones — a staple in true Elton John fashion. It pans to the rest of his body and we see him walking down a hallway, speeding up as he goes along. He makes the typical Elton entrance dramatically, but not to the scene I was expecting. Instead of a concert, he's clearly in a therapy session specifically for addicts.
The reality of what the scene really meant was directly pointing out that this wasn't going to be about Elton John: The Musician. This was going to be about Elton John: The Struggler.
From the opening scene, the movie goes in chronological order, showing Elton's childhood with a careless mother and an absentee father, to meeting his best friend and songwriter Bernie Taupin (Jamie Bell) to his struggles with drug addiction and alcoholism, to the difficluty of being a gay man living in the late 20th century.
For me, watching his life on screen like that was intense but in the best possible way. Some scenes were absolutely heartbreaking to watch and yet I watched them anyway because the whole point was that they broke your heart. You can't live another person's experiences, but director Dexter Fletcher sure as hell tried to make you live Elton's.
Because nothing was hidden or sugar-coated, watching "Rocketman" means that it might not be completely comfortable to watch some of the scenes regarding sex. I'm not sure if there's anyone who doesn't know this already, but just to clear the air, I'll be frank: Elton John is a gay man. The movie makes it abundantly clear that he is a gay man. 'Nuff said.
Although I deeply appreciate how immensely detailed the plot was about the difficulties of Elton John's life, by far my favorite thing about it is the fact that Taron Egerton does all his own singing. There is no pre-recorded version done by a hired singer and I absolutely love the authenticity behind it. The main reason I wanted to watch the movie in the first place was because of the music and to know that the production team took the time to do it right is something that I value.
Besides the fact that "Rocketman" was more than I expected it to be, as per usual with anything Elton John, overall it was a fantastic and accurate depiction of how fame and ease don't always go together. Adults and teenagers alike should start understanding how some of their favorite artists have histories that don't always fit with the expectation of what they should be, and watching "Rocketman" helps achieve that purpose.
Of course, your reasoning for watching it doesn't have to be that deep. You could just really like glitter.