'Toy Story 4' sweet, comical
Anika Nyp, Blue M Editor-in-Chief
August 12, 2019
After all the years of only growing up with three "Toy Story" movies, Disney decided to release the new "Toy Story 4.". The film starts out with showing Bonnie (Madeleine McGraw), Woody (Tom Hanks) and the gang have been getting ready to go to kindergarten. When Woody sees how upset Bonnie is when her parents say, the most relatable problem a kindergartener can have, that she cant bring any toys along, he sneaks into her bag in hopes of being played with. Bonnie ends up making a new friend Forky (Tony Hale) a lovable spork who used to be trash and made everyone laugh when he kept on climbing into the trash can. Bonnie's parents decide to take a road trip and when Forky is lost on the road Woody tries to go rescue him and bring him back. On the way the run into some old friends and an antique doll, Gabby Gabby, hoping to find her voice and a little girl to play with. Gabby Gabby was probably the most realistic part of the animation. She really did look like a doll from the 1970s and had features that looked real enough to actually be played with.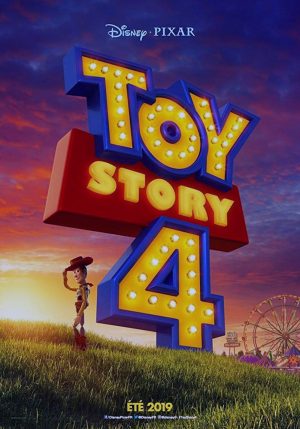 The movie was so sweet and hilarious at the same time. It's definitely a tear jerker, especially at the end. As always, the animation was stellar and full of textures that made the toys seem so life like. Forky cracks me up and definitely made the whole atmosphere of the theater wonder if Disney was for real when he was first introduced. There's a lot of surprises in this movie, including Bo Peep, Annie Potts, showing back up with her sheep in tow. And while her life has changed, so has her animation. It has completely transformed and looks like she's actually made of glass.
This movie is definitely is not only meant for little kids and will appeal to all ages. Not only do we get to meet Forky but we meet the lovable duo Bunny and Ducky (Jordan Peele and Keegan Micheal Key) two circus game prizes freed by Buzz Lightyear (Tim Allen) and help him look for Woody.
The movie was a great one if you enjoy an adventurous, funny, sweet, heart breaking film. The carnival in a small town was a great place to leave the "Toy Story" series on a high note while showing some beautiful animation.