Sunset Zoo provides overflow parking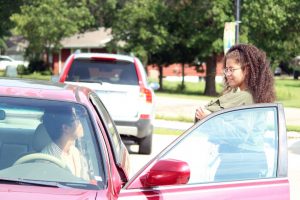 It is 7:40 a.m. and students are continuing to circle around the parking lots. After two or three loops, they make their way into the next parking lot.
Their frustration grows as they endlessly circle every parking spot MHS has to offer. After making their rounds once again, they signal their way past other drivers who drudge to their 9-5 jobs. They turn into Sunset Zoo, finally accepting their fate, ready to begin the menial task of school.
The zoo parking lot has saved many students, whether they are late and cannot find a parking spot, can't afford a parking pass, or just want to park closer to their sports field or court. One such student is junior Kathryn Hyde, who used to park in the zoo lot everyday.
"I could not afford the parking pass being a new car owner," Hyde said.
Other students share the feeling of not wanting to pay for a pass they either don't want or can't afford.
"I park in Sunset because it's better than getting a ticket," senior Elise Mitchell said. "I am late and I don't have a parking pass."
According to the marketing director of Sunset Zoo, Melissa Kirkwood, Sunset Zoo and Manhattan High have a symbiotic relationship. Sunset Zoo is happy to let the students of MHS park in the parking lot and they appreciate the students who do park there. According to Kirkwood, MHS students are very respectful and responsible about using the space.