Shooting threat leads to heightened security
More than the usual Halloween festivities was on the minds of Manhattan High students last Wednesday.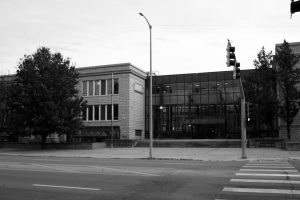 At 11:15 p.m. Tuesday, Kansas Highway Patrol's School Safety Hotline received an anonymous call from a concerned parent. The caller was told by their daughter that a school shooting was planned at MHS East Campus the next day and that students were supposed to wear red to avoid being shot. Officials are not sure why the call was placed anonymously.
Despite the relatively small amount of information, the school and Riley County Police Department took action immediately.
"Just those two little things about wear the color red and and some sort of rumor … about a shooting … that's the only information that we had to begin making plans," Michele Jones, director of communications and school safety, said. "We didn't really know what what we had. It was hard to tell if it was credible or not credible at that point."
The Highway Patrol contacted RCPD and school superintendent Dr. Marvin Wade. From there the RCPD contacted Jones. The school and police department started making plans at once, with Michael Dorst sending out a statement on the school's social media in the first hours of Wednesday morning.
"[My initial reaction] was [to be] worried," School Resource Officer Sonya Gregoire said. "[I] hop[ed] that it was not true, but wanted to take every avenue at the police department to make sure that everybody was safe."
RCPD officers secured East Campus late Tuesday night and the police department increased their presence at both campuses throughout the school day Wednesday. Teachers and administrators were on high alert and administrators brought their offices into the hallways in order to more closely monitor the situation.
While the threat was directed at East Campus, West Campus also increased security through police presence.
"People were concerned that [the call] was a ploy to get police to go to East, and that the threat was actually the West," Gregoire said. "That's why, myself and another officer came to West to make sure that it was … safe."
On Wednesday 516 students were absent from MHS West and 182 were gone from East Campus — close to 700 students total.
"That's an individual parent decision," Jones said. "I think everybody had to make the best decision that they could with the information that they had."
In an unrelated event, sophomore Connor Bruce was arrested by RCPD on Wednesday as a result of posting threats with a weapon on social media. It is confirmed that there is no connection between his arrest and the threats made on Wednesday.
A joint investigation into the threats by the RCPD and USD 383 has determined that there was no danger posed to Manhattan High students. However, Jones and the RCPD urge that students continue to speak up when they hear a threat — even if it's a false alarm.
"You're not being a snitch by telling, you're protecting your community," Gregoire said. "If you hear something, say something. Even if you want to put a note underneath my door. If you want to remain anonymous just tell me you want to remain anonymous and I will not tell people who you are."
It is also important students take the topic of school shootings with as serious as it is.
"I think students need to realize that we take these threats seriously, no matter if they're anonymously called in to the safety hotline, if you tell your parents, if you make a joke of it," Jones said. "It's not something to joke about. It's not a joke to say I'm going to be a school shooter … those things are taken seriously by us and by the police department."