Key Club creatively collects donations for UNICEF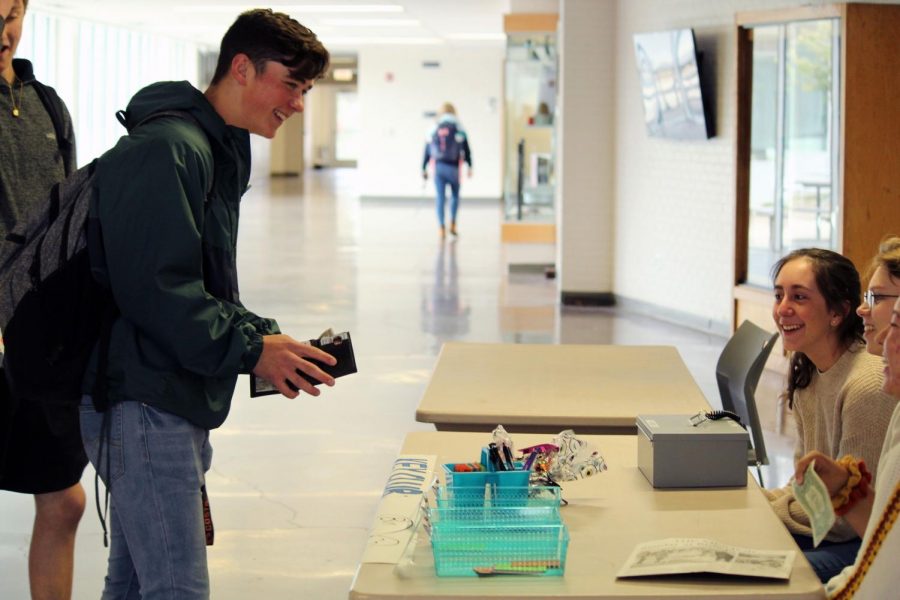 Through holiday themed fundraising techniques, Key Club set out to raise money for the United Nations Children's Fund.
One of their approaches included selling Halloween candy grams — similar to the well-known candy cane grams during Manhattan High's winter festivities. Club members set up a booth during both lunches on Monday through Wednesday and sold these goodie bags — filled with sour patch kids and chocolates, among other sweets — for $2 each.
"Our sales from the Halloween grams were a little lower than we would have hoped," Key Club sponsor Laura Sapp said. "But this is the first year we've ever done this so it's something we might just have to plan better for next year [by] planning a little more ahead."
In the future, Sapp aims to sell these festive grams at the East Campus for further involvement from MHS students. The hope is to gather interest from students to take part in making a change.
In addition to less than expected success, according to sophomore and Key Club member Deeshana Nilaweera, the preparation for the event felt "a little rushed," with the colorful signage hastily drawn up and advertising not satisfactory.
"Having signs and everything made on time [would've improved preparedness]," Nilaweera said.
Furthering their fundraising efforts, on Halloween night, Key Club members dressed up and divided into groups with UNICEF donation boxes — a recurring event the club participates in each fall. According to sophomore and communications officer Ashi Wickramasundara, sophomore, the teams were reminded to "stay safe" and together went door to door to ask for donations.
"My group split into pairs and walked through the neighborhoods surrounding our own houses, so we were familiar with most of the streets," Wickramasundara said. "[We] went to houses with their porch lights on and politely asked for donations instead of candy. Of course, our community members were so kind to donate and give us some candy as well in the process."
Despite the cold weather and occasional struggle to explain to community members what club members were aiming to do, trick-or-treating while serving others was notably a fun adventure.
"Hanging out with friends and doing service with friends [was] definitely one of [my favorite] parts," Nilaweera said.
While the final total is unclear, Key Club estimates they raised a couple hundred dollars after trick-or-treating.
"I think it's incredibly important to thank the Manhattan community for being so charitable by contributing to this wonderful cause, as this level of success wouldn't be possible without their support," Wickramasundara said.
Additionally, this past week, Key Club created an Instagram account with the goal of building more involvement from the Manhattan community and schools.
"Knowing that you are a part of something bigger than yourself is a wonderful feeling and experience that I think all people should have at some point," Wickramasundara said.