Indians move on in playoffs, face familiar foe
Manhattan Varsity football (9-1) defeated Lawrence Free State (8-2) last Friday night 49-28 to move on to round three of the playoffs. The Indians did what they have done many times this year — start off strong and put the game out of reach.
"We just played very well as a team," senior captain Sam Shields said. "[Free State] was very confident going into the game but so were we. We just played our game and controlled the line of scrimmage."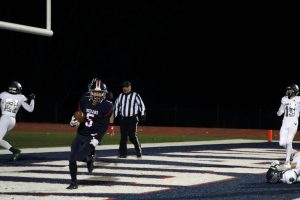 The Indians started off strong going into the halftime break with a 21-point lead over the Firebirds. They never looked back from there as they defeated Free State. Senior Ben Bolte stated the win was a result of a lot of hard work during the week.
"Last week consisted of clean, crisp and hard working practices. With playoffs our mindset is that it's win or go home," Bolte said. "Especially for our seniors, it could be the last game of our lives. We executed with firing off the ball on the line and making clean handoffs to our backs, and great balls to our receivers. It was all gas and no brakes."
With the win, the Indians will be moving on to face off with the number one team, Derby. The Indians are looking for revenge against the undefeated Panthers as they went down to Wichita and lost last year in the state semifinals.
"We are all excited," Bolte said. "We all have butterflies in our stomachs, light headed, but in a good way. Underclassmen that stepped up this year have figured out how to drown out the noise that most players figure out senior year which is why we are able to stay so calm."
Although Derby may arguably be the best team in the state, the Indians are looking at it as just another game and a chance to advance in the playoffs.
"Derby is nothing other than just a team in our way to getting the title," Bolte said. "We don't think less or more of them. We will continue to treat them as anyone else and prepare the same way as we did for every game."