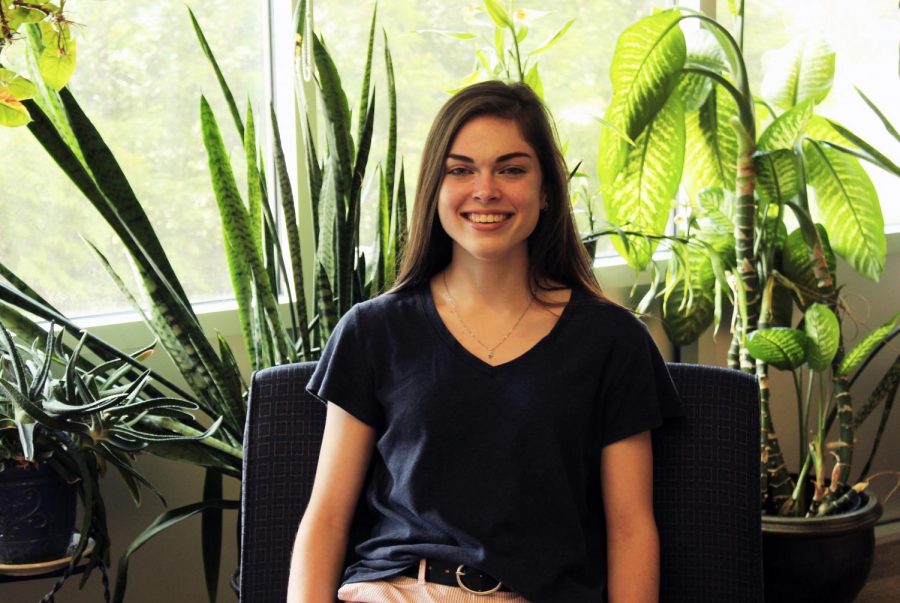 Senior Sophia Comas is the Online Editor-in-Chief of MHSMentor.com. As the Online Editor-in-Chief, Comas manages all of the stories written and uploads them to the website.
Comas has been apart of The Mentor since she was a sophomore when she enrolled in 21st Century Journalism. During December of that semester, she became the Features Editor where she continued to pursue her passion for writing.
"I'm the kind of person who is very unafraid of confrontation, so when things are messy in here, I still enjoy it," Comas said. "I love what I do here. I love being able to write, I love being able to take pictures and I love interviewing people."
After her work as the Features Editor, Comas returned her junior year as the Sports Editor for The Mentor where she learned how to get used to being in a leadership role. Her goals for this year are to create an award-winning news website as well as ensuring that she's doing her best by her fellow staff members.
"I want to be able to establish myself as a leader for the classroom," Comas said. "I want other members of staff to trust that I can get us there."
When she's not working for The Mentor, Comas likes to spend time with her dog Ruby, either eating chocolate or watching "The Office."
Sophia Comas, Online Editor-in-Chief
Mar 03, 2020

Band takes four to KMEA

(Story)

Mar 02, 2020

'They can change the world'

(Story/Media)

Feb 24, 2020
Feb 24, 2020

Hispanic Student Union hosts ACT prep class

(Story)

Feb 21, 2020

Manhattan Mention episode 1

(Story)

Jan 27, 2020

Cassel's tree promotes individuality, importance

(Story)

Jan 27, 2020

"Student Press Freedom Day" worthy of acknowledgement

(Story)

Jan 15, 2020

Weather postponements problematic for music department

(Story)

Dec 10, 2019

Immunization records still show non-compliance

(Story)

Nov 11, 2019

Indians move on in playoffs, face familiar foe

(Media)

Nov 11, 2019
Nov 11, 2019

School board in discussion over Juul lawsuit

(Story)

Nov 04, 2019
Nov 04, 2019

Solid at Rim Rock

(Story)

Nov 04, 2019

Key Club creatively collects donations for UNICEF

(Media)

Nov 04, 2019

The best pancake in Manhattan

(Story)

Oct 28, 2019

Chamber Orchestra commences performance season

(Story)

Oct 28, 2019

Cross country qualifies for state

(Story)

Oct 28, 2019

New immunization requirements to take effect

(Story)

Oct 07, 2019

Cross country sweeps for third time this season

(Story)

Oct 07, 2019

StuCo, administrators in talks of bringing wolf mascot

(Story)

Oct 07, 2019

Annual HALO Conference spreads diversity among students

(Story)

Sep 23, 2019

'This is not a drill'

(Story)

Sep 23, 2019

Marching band performs at homecoming during halftime

(Story)

Sep 23, 2019

Homecoming proved eventful

(Story)

Sep 23, 2019

Cross country takes seventh place at Joplin

(Story)

Sep 16, 2019

Investigation on Oak lot shooting ongoing

(Story)

Sep 16, 2019

Mike Pompeo inadequate for Senate

(Story)

Sep 09, 2019

Cross Country sweeps first meet of season

(Story)

Sep 09, 2019

Chamber Orchestra sets aspirations deep, personal

(Story/Media)

Aug 12, 2019

A Day in the Life of Dorst

(Story)

Aug 12, 2019

New schedule changes to take effect

(Story)

Aug 12, 2019

Your stories make publications possible

(Story)

Aug 12, 2019

Advice for Juniors

(Story)

Aug 12, 2019

"Rocketman" big, bold, sparkly

(Story)

May 13, 2019

Music department holds emotional final concerts

(Story)

May 13, 2019

Girls Swim and Dive league champs, prepare for state

(Story)

May 06, 2019

Transgender athletes deserving of equal rights

(Story)

May 06, 2019

Lying detrimental to all aspects of life

(Story)

May 06, 2019

Athlete of the Week

(Story)

May 06, 2019

Girls Swim and Dive prepare for Centennial League meet

(Story)

Apr 29, 2019

Girls swim and dive end regular season

(Story)

Apr 29, 2019

Athlete of the Week

(Story)

Apr 15, 2019

Girls swim and dive place first on home turf

(Story)

Apr 15, 2019

Businesses available for prom hair, makeup

(Story)

Apr 15, 2019

Orchestra has 'intangible' experaince while at state festival

(Story)

Apr 15, 2019

Headlight Rivals sign record label for new album

(Story)

Apr 08, 2019

NRA against domestic abuse victims

(Story)

Apr 08, 2019

Athlete of the Week

(Story)

Apr 08, 2019

Girls Swim and Dive sets personal records, drops times

(Story)

Apr 08, 2019

Music department finds success at Regionals

(Story)

Apr 08, 2019

Dorst prepares for new responsibility with school transitions

(Story)

Apr 04, 2019
Mar 25, 2019

Michael Dorst named new Manhattan High principal

(Story)

Mar 25, 2019

Junior class Student Council prepares for prom

(Story)

Mar 04, 2019

MHS considers candidates for new principal

(Story)

Mar 03, 2019

Athlete of the Week

(Story)

Mar 02, 2019

Proposed 2019-2020 bell schedule to shorten school year

(Story)

Mar 02, 2019

Jonas Brothers reunion exciting, new

(Story)

Feb 16, 2019

Anti-LGBTQ legislation offensive, cruel

(Story)

Feb 05, 2019

Super Bowl LIII expected yet dissatisfying

(Story)

Feb 04, 2019

Athlete of the Week

(Story)

Jan 28, 2019

MHS choirs wow at annual Serenade

(Story)

Jan 28, 2019

Athlete of the Week

(Story)

Jan 28, 2019

Wrestling takes top spot at home

(Story)

Jan 28, 2019

USD 383 opens survey for new principal

(Story)

Jan 15, 2019

To grow up is to take responsibility

(Story)

Jan 15, 2019

Athlete of the Week

(Story)

Jan 15, 2019

Illegal Intentions

(Story)

Dec 17, 2018

MHS Orchestra performs for sixth annual Orchestravaganza

(Story)

Dec 11, 2018

Athlete of the Week

(Story)

Dec 11, 2018

Public title should not dictate opinions

(Story)

Dec 11, 2018

Class, department changes to occur in 2018-2019 year

(Story)

Dec 04, 2018

Athlete of the Week

(Story)

Dec 04, 2018

Fashion beneficial to gender roles

(Story)

Dec 03, 2018

"Thank U, Next" a cinematic masterpiece

(Story)

Dec 03, 2018

Instrumentals at Manhattan High have eventful weekend

(Story)

Nov 12, 2018

Happy and Healthy

(Story)

Nov 12, 2018

Bond referendum passes, changes set to begin

(Story)

Oct 29, 2018

MHS Orchestra goes on tour with Kansas Wesleyan

(Story)

Oct 29, 2018

Athlete of the Week

(Story)

Oct 29, 2018

USD 383 prepares for bond referendum vote

(Story)

Oct 29, 2018

Music department has success in weekend festivals

(Story)

Oct 26, 2018

Athlete of the Week

(Story)

Oct 26, 2018

Girls Varsity Cross Country takes first in league

(Story)

Oct 02, 2018

Orchestra prepares for upcoming tour

(Story)

Oct 02, 2018

Cross Country sweeps division races

(Story)

Oct 02, 2018

Athlete of the Week

(Story)

Oct 02, 2018

Kansas Supreme Court special session held at MHS

(Story)

Sep 27, 2018

Acknowledge history to prevent mistakes

(Story)

Sep 27, 2018

Athlete of the Week: Clara Mayfield

(Story)

Sep 27, 2018

MHS Cross Country breaks record at Missouri Southern Stampede

(Story)

Sep 27, 2018

Varsity and Pops Choirs perform at State Fair

(Story)

Sep 17, 2018

MHS Cross Country triumphs at Emporia Invitational

(Story)

Sep 17, 2018

Renovations to Bishop Stadium in progress

(Story)

Aug 24, 2018

Red Cross Club hosts summer blood drive

(Story)

Aug 24, 2018

Teachers prepare with USD 383 Back to School Convocation

(Story)

Aug 24, 2018

Hoyt announces retirement

(Story)

Aug 09, 2018

Red Cross Club hosts summer blood drive

(Story)

May 24, 2018

AFS Foreign Exchange students reflect on the year

(Story)

May 24, 2018

Taking a look behind the gavel: Q&A with student council seniors

(Story)

May 24, 2018

MHS band prepares for final concert of year

(Story)

May 24, 2018

MHS Orchestra commemorates seniors with last concert

(Story)

May 08, 2018

MHS Pops, Varsity Choirs display talent through annual Showcase Concert

(Story)

May 08, 2018

MHS music department successful at state festival

(Story)

May 08, 2018

MHS hosts annual America's Got Special Talent

(Story)

Apr 26, 2018

MHS Orchestra travel to Lawrence for annual festival

(Story)

Apr 26, 2018

MHS students celebrate annual Tulip Festival

(Story)

Apr 25, 2018

BSU attends annual leadership conference

(Story)

Apr 25, 2018

District conducts community surveys for future improvements

(Story)

Apr 17, 2018

Indian mascot designer passes away

(Story)

Apr 17, 2018

MHS Music Department hosts regional competition

(Story)

Apr 17, 2018

MHS's Neff named 2018 Teacher of the Year

(Story)

Apr 10, 2018

'In My Blood,' 'Lost in Japan' surprising new singles for Shawn Mendes

(Story)

Apr 10, 2018

Interpersonal Skills fundraises for Special Olympics

(Story)

Apr 10, 2018

Students Against Destructive Decisions kicks off new season with Spring Fling

(Story)

Apr 10, 2018

Schnee honored through prestigious award

(Story)

Apr 03, 2018

Band celebrates 'Music in Our Schools' with annual winter concert

(Story)

Apr 03, 2018

Choir rehearses for upcoming performance

(Story)

Apr 03, 2018

MHS choir performs in unconventional location for annual Loft Concert

(Story)

Apr 03, 2018

Modern inventions made by women

(Story)

Apr 03, 2018

MHS and middle school orchestras come together for annual collaboration concert

(Story)

Mar 12, 2018

Band prepares for upcoming concert

(Story)

Mar 06, 2018

'Black Panther' brings culture to screen

(Story)

Mar 06, 2018

Arming teachers not solution to gun safety

(Story)

Mar 06, 2018

Poetry Slam showcases talents, benefits others

(Story)

Mar 01, 2018

Online Sexual Harassment

(Story)

Feb 06, 2018

Manhattan High Retirees of 2018

(Story)

Feb 06, 2018

BSU prepares for annual poetry slam

(Story)

Feb 01, 2018

Tide Pods: the obsession of 2018

(Story)

Feb 01, 2018

Choir shows skill set with annual Serenade Concert

(Story)

Feb 01, 2018

Homecoming starts off week with PJ day

(Story)

Jan 25, 2018

The best way to get out of a toxic relationship

(Story)

Jan 25, 2018

AP students struggle to find balance between school and sleep

(Story)

Dec 12, 2017

"Just the Beginning" a success for new musician

(Story)

Oct 16, 2017

"Turtles All the Way Down"

(Story)