Club Feast sees poor attendance
Students for six separate clubs at Manhattan High attended the annual Club Feast, organized by Student Council, last Tuesday to relax and socialize.
StuCo started organizing the event before Thanksgiving break, though it was fairly low key. They informed clubs of the event's existence worked on setting up the potluck. The gathering was relatively small this year, with about 20 people present.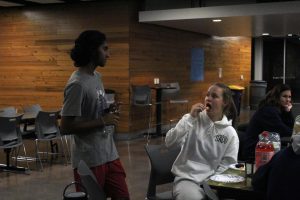 Club feast has been a tradition for the past eight years at MHS, allowing all of the clubs to come together and relax in the midst of finals and end-of-semester projects.
"To have it in the beginning of December seemed like a good time to have a break," StuCo sponsor Leslie Campbell. "It's a lot of stress [and this is] just a chance for everyone to just kind of relax and hang out."
While clubs offer a chance for like-minded people to spend time together, Club Feast gives an opportunity for different people to exchange ideas and see what's happening outside their individual friend groups and organizations.
"Since a lot of different clubs are represented there's a lot of different ideas and a lot of us are friends so coming together is a good thing," StuCo president Hannah Higgins said. "Interacting with different clubs is fun to see what they have been doing throughout the year."
According to junior Taylor Claussen, with the weight of schoolwork having the opportunity to connect with other people is important.
"It's just a great… community," Claussen said. "[When] we get together — all different clubs — we all have different… focuses… [so] it's just fun to get together and share time with each other."