Wrestling takes first at home meet
Senior Tate Sauder gets 100th career win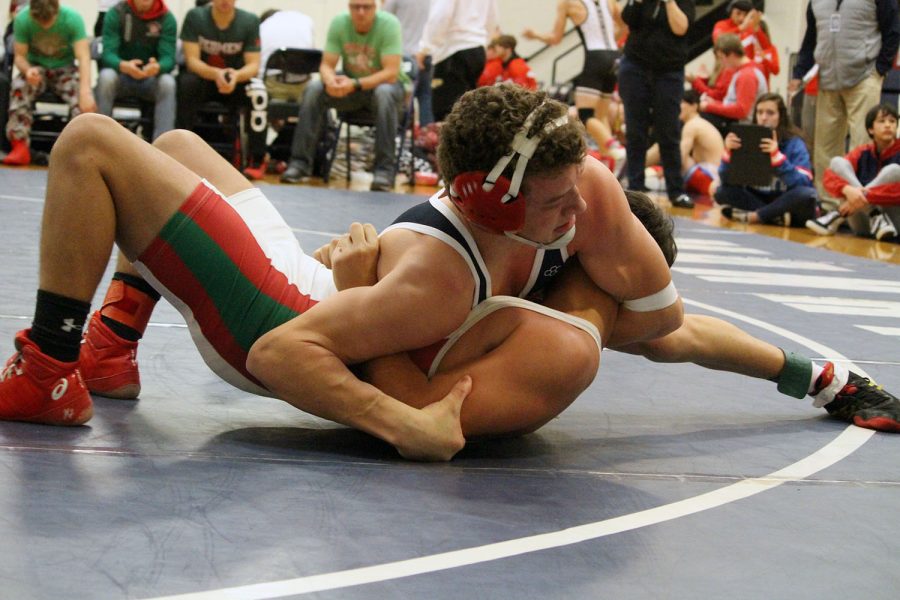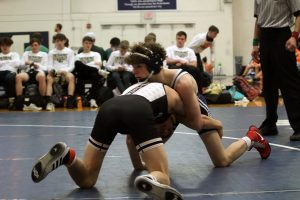 Manhattan wrestling won their first meet of the season at home on Saturday, overcoming their difficult start to the season after losing to Bonner Springs on Thursday and placing 10th at the Gardner-Edgerton meet a week prior. That followed a loss at the Thursday dual against Bonner Springs High in Kansas City 40-30.
"We don't have a lot of experience on the team," junior Damion Ilalio said. "So… going places and losing, it's not necessarily all bad because we gain a lot of experience and experience is your greatest tool in wrestling."
MHS Varsity wrestling won all five of their duals at the home meet, beating Paola 63-16, Smith Center 60-24, Shawnee Heights 45-29, Abilene 42-25 and Manhattan J.V. 55-12.
"I feel like we wrestled very well," Ilalio said. "We bounced back from losing to Bonner and Great Bend and they were really tough teams, so I'm really proud of the way that we wrestled today."
According to head coach Robert Gonzales, though the competition was less challenging last weekend, it was still good to get the win.
"Competition is competition and for us, it was nice to just wrestle good High School wrestling teams," Gonzales said. "Sometimes as coaches and athletes, we get caught up in a nationally ranked team or the state ranked team. And although we competed very well, I thought it was just gratifying to get a win…. I think they practice hard, they work hard, our coaches have coached them really hard…. but a win is a win and five wins in a day, it's exciting."
Sophomores Easton Taylor, Blaisen Bammes and Talique Houston and senior Tate Sauder all went undefeated at the tournament. Every Varsity wrestler won at least one match for the first time this season.
"I'm really happy with the way we wrestled," Sauder said. "We all were focused and ready to go."
One of the biggest successes of the weekend was the amount of wins by fall earned during the meet with a total of 22. The team got six against Shawnee heights, seven against Smith Center and nine against Payola.
"That's Manhattan wrestling, getting pin falls," Gonzales said. "We didn't have that in the Bonner tournament, and we didn't have that in the Great Bend tournament. And I'm just ecstatic about it… our kids love that [too]."
Of the many individual successes of the tournament, Sauder's was the most accomplished. Along with going undefeated he won his 100th career match over Andrew Wilkinson from Smith Center with a fall 48 seconds in.
"It felt good [to get my 100th career win]," Sauder said. "It's awesome… to get my 100th…. at home… because it's in front of my family, my friends, my teammates."
The team goes to Grand Island Nebraska Thursday of next week to compete in one of the biggest tournaments of the season with 36 teams from four states attending.
"I think that we're going to go out there and try our hardests, do our best," Ilalio said. "It'll be really fun. Grand Island's a really hard tournament with a lot of really good teams."