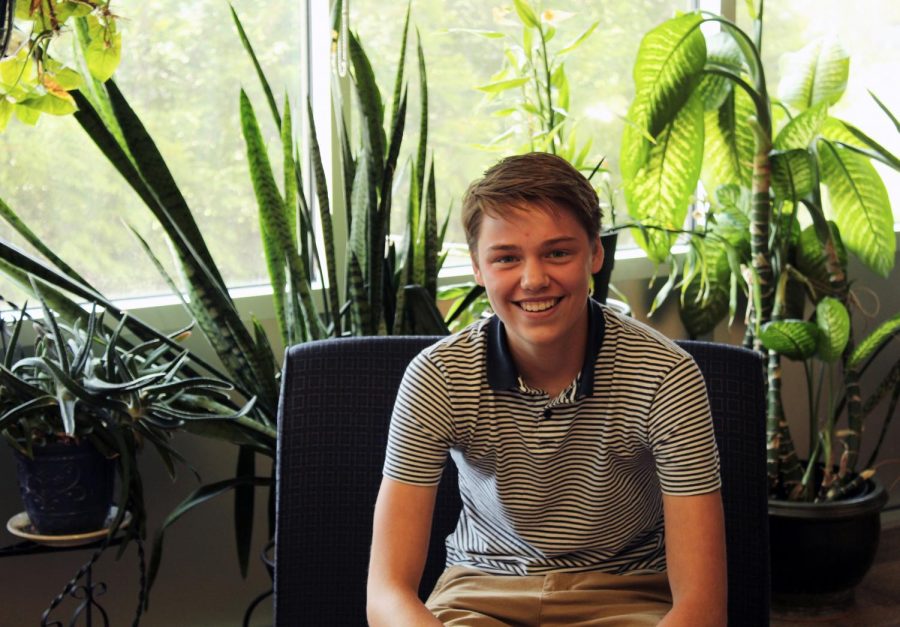 Sophomore Kris Long is the Opinions Editor for The Mentor and has been a member of staff since he joined 21st Century Journalism his freshman year.
He's hoping to establish himself as a leader this year by learning how to manage both writers and content.
"I think it's going well so far," Long said. "I enjoy writing opinions because it allows me to methodically construct an argument rather than just yelling at people."
Long particularly enjoys political reporting and explaining the political environment in an in-depth way. He also enjoys watching soccer.
"I think paying attention to politics it important to being a good citizen," Long said. "[People] can make the right choices when it comes to voting."
When he's not working on academics, Long can be found hanging out with friends playing Dungeons and Dragons or annoying his twin sister Meghan.
Kris Long, Opinions Editor
Nov 26, 2020

Winter sports in midst of pandemic

(Story)

Nov 26, 2020

School using renewable energy starting 2021

(Story)

Nov 26, 2020

USD 383 intends to stay in hybrid, causes confusion

(Story)

Nov 16, 2020

At-risk students bear brunt of hybrid

(Story)

Nov 16, 2020

Hybrid supports what educators have speculated

(Story)

Nov 16, 2020

Hybrid impacts sleep schedules differently

(Story)

Nov 16, 2020

Intramurals cancelled due to lack of funds

(Story)

Nov 10, 2020

School announces intention to go back five days a week at semester

(Story)

Nov 10, 2020

Democrats win student vote down ticket in mock election

(Story)

Nov 03, 2020

Soccer ends season against WaRu

(Story)

Nov 03, 2020

Intramurals cancelled due to lack of funds

(Story)

Nov 03, 2020

Democrats win student vote down ticket in mock election

(Story)

Oct 27, 2020

Boys soccer narrowly beats Thunderbirds

(Story)

Oct 27, 2020

School intends to stay in hybrid through semester

(Story)

Oct 20, 2020

Sunflower League rejects MHS bid

(Story)

Oct 20, 2020

Students and parents hope to change to four day schedule

(Story)

Oct 20, 2020

Soccer dominates Topeka West, Highland Park

(Story)

Oct 14, 2020

Boys soccer falls to Derby

(Story)

Oct 09, 2020

Board sets Nov. 2 as target date for reopening

(Story)

Oct 08, 2020

Manhattan triumphs against Hayden

(Story)

Oct 08, 2020

AFS adapts to distance

(Story)

Oct 08, 2020

Onsite students receive iPad cases after a month of waiting

(Story)

Oct 08, 2020

Manhattan High petitions to join Sunflower League

(Story)

Oct 01, 2020

Hybrid schedule heightens stress for teachers

(Story)

Oct 01, 2020

Young Democrats hold voter registration event

(Story)

Oct 01, 2020

Boys soccer draws Seaman after double overtime

(Story)

Oct 01, 2020

Voting age should be 16

(Story)

Sep 29, 2020

Boys soccer draws Seaman after double overtime

(Story)

Sep 22, 2020

Soccer takes the win against Trinity Academy

(Story)

Sep 22, 2020

'Striking the balance'

(Story)

Sep 21, 2020

Sports plow ahead in the face of uncertainty

(Story)

Sep 21, 2020

New teachers navigate hybrid

(Story)

Sep 15, 2020

Boys soccer drops game against Dodge, Derby match cancelled

(Story)

Sep 14, 2020

Daily logs no longer required

(Story)

Apr 15, 2020

MHS student council organizes social media spirit days

(Story)

Mar 19, 2020

'Not today, not tomorrow, not this week' 

(Story)

Mar 18, 2020

AFS trips cancelled, exchange students sent home early

(Story)

Mar 13, 2020

County Health Department directed USD 383 to suspend school through March 30

(Story)

Mar 02, 2020

Wrestling takes 12th at state, placing four

(Story)

Mar 02, 2020

WorkKeys should be valued by students

(Story)

Mar 02, 2020

Manhattan students participate in Wamego Science fair

(Story)

Mar 02, 2020

Model UN makes waves in Topeka

(Story)

Mar 02, 2020

Tribe changes admissions process to be more inclusive

(Story)

Feb 24, 2020

Manhattan takes fifth in boys and girls regionals, takes nine to state

(Story)

Feb 24, 2020

Selective enrollment needs to change

(Story)

Jan 27, 2020

Wrestling takes 10th at Owasso dual tournament

(Story)

Jan 15, 2020

Dodge City wrestling tournament cancelled

(Story)

Jan 15, 2020

Students should be open to advisory credit

(Story)

Dec 19, 2019

Wrestling takes first at home meet

(Story/Media)

Dec 10, 2019

Students need to be more aware of companies they support

(Story)

Dec 10, 2019

Club Feast sees poor attendance

(Story)

Nov 18, 2019

Wrestling season set to start

(Story)

Nov 18, 2019

Northwestern student newspaper apology unwarranted

(Story)

Nov 18, 2019

StuCo holds fall blood drive

(Story)

Nov 11, 2019

AFS holds Potluck

(Story/Media)

Nov 11, 2019

Hunter French breaks records

(Story)

Nov 11, 2019

New school board should prioritize student voices

(Story)

Nov 11, 2019

StuCo changes constitution to accommodate members

(Story)

Nov 04, 2019

Soccer ends season at regional final

(Story)

Nov 04, 2019

School justified in taking drastic action to enforce vaccine requirement

(Story)

Nov 04, 2019

Shooting threat leads to heightened security

(Story)

Oct 31, 2019

Boys soccer progresses to regional final

(Story)

Oct 28, 2019

Boys soccer earns narrow win at last game of the season

(Story)

Oct 28, 2019

4-H community conversation fosters dialogue among youth

(Story)

Oct 17, 2019

Manhattan boys soccer futhers winning streak

(Story)

Oct 17, 2019

Boys soccer picks up momentum with win against Wichita South

(Story)

Oct 14, 2019

Soccer dominates at home

(Story)

Oct 07, 2019

Freshman required to take the Pre-ACT

(Story)

Oct 07, 2019

Manhattan takes fifth loss of season to Emporia

(Story)

Oct 07, 2019

School justified in closing vending machines during school day

(Story)

Oct 07, 2019

StuCo attends annual regional conference

(Story)

Sep 25, 2019

Manhattan takes loss to Seaman

(Story)

Sep 23, 2019

Manhattan takes win from Great Bend in last seconds of match

(Story)

Sep 23, 2019

Students need to take drills more seriously

(Story)

Sep 23, 2019

New Advanced Studies interest group starts at MHS

(Story)

Sep 16, 2019

Boys soccer brings Junction City to mercy rules

(Story)

Sep 16, 2019

StuCo clubs rules unnecessarily harsh, involved

(Story)

Sep 09, 2019

AP exam registration move not beneficial to students

(Story)

Sep 09, 2019

Titan Tournament disappoints, team shows improvement

(Story)

Sep 09, 2019

IPS members 'make new connections' at Camp Wood

(Story)

Sep 04, 2019

Boys soccer defeats Lawrence in first game of season

(Story)

Sep 04, 2019

Manhattan comes together in honor of former coach

(Story/Media)

Aug 12, 2019

West Campus Advisory read introduced

(Story)

Aug 12, 2019

Mr. MHS moved to fall, musical moved to spring

(Story)

Aug 12, 2019

Students, teachers need to focus on content to make up time this school year

(Story)

Aug 12, 2019

Mike Sanchez takes on role of head boys soccer coach

(Story)

Aug 12, 2019

Advice for Freshman

(Story)

Aug 07, 2019

Boris Johnson unfit to be British prime minister

(Story)

Jun 24, 2019

Iran U.S. conflict hypocritical, dangerous

(Story)

May 13, 2019

StuCo officers plan for 2019-2020 school year

(Story)

May 13, 2019

New IPS members announced

(Story)

May 13, 2019

Emporia baseball cancellation causes contention for Centennial league

(Story)

May 13, 2019

Senior exit project should be required

(Story)

May 07, 2019

Noah Busch named USD 383 teacher of the year

(Story)

May 06, 2019

Baseball takes third place at Diamond Classic over the weekend

(Story)

Apr 30, 2019

Schools enter secure campus following juvenile inmate escape

(Story)

Apr 29, 2019

University Level Research, Mentorship students present at symposium

(Story)

Apr 29, 2019

Manhattan sweeps Washburn Rural in last home game of season

(Story)

Apr 19, 2019

Varsity baseball swept by Seaman High

(Story)

Apr 17, 2019

Varsity baseball trounces Topeka West

(Story)

Apr 15, 2019

Varsity Baseball sweeps Topeka High

(Story)

Apr 12, 2019

Hugs for Humanity hopes to 'spread compassion and positivity' to MHS

(Story)

Apr 08, 2019

Manhattan split with JC in first home doubleheader of the season

(Story)

Apr 08, 2019

AFS students travel to New York

(Story)

Mar 25, 2019

High expectations for 2019 baseball season

(Story)

Mar 25, 2019

New Zealand shooting further evidence that stricter gun laws are necessary

(Story)

Mar 09, 2019

MHS chess team wins state, Jack Easton takes first individually

(Story)

Mar 01, 2019

2019 Model UN proves to be 'wonderful experience'

(Story)

Feb 24, 2019

K-State Sihasara Event Provides Cultural Perspective

(Story)

Feb 23, 2019

IPS fundraise for Special Olympics through the Manhattan Polar Plunge

(Story)

Jan 29, 2019
Jan 28, 2019

Government shutdown irresponsible

(Story)

Jan 15, 2019

Chess club provides unique experience for MHS students

(Story)

Dec 17, 2018

Is the school's self-defense/fighting policy fair

(Story)

Nov 13, 2018

New Teen Zone proves to be a good addition to Manhattan public library

(Story)

Nov 06, 2018

Athlete of the Week: soccer's Weins

(Story)

Nov 06, 2018

Soccer comes together in support of head coach

(Story)

Nov 06, 2018

MHS soccer team becomes runner-up in state tournament

(Story)

Nov 06, 2018

Why the Midterms are more important than ever this year

(Story)

Oct 29, 2018

Manhattan boys Varsity soccer wins regionals

(Story)

Oct 26, 2018

Manhattan High Varsity Soccer defeats Highland Park

(Story)

Oct 19, 2018

MHS Varsity boys soccer finishes the season with two wins

(Story)

Oct 02, 2018

Manhattan boys Varsity soccer wins on the road

(Story)

Oct 02, 2018

MHS soccer sweeps Hayden 10-0 on Tuesday

(Story)

Sep 27, 2018

Insight on setup of the Homecoming Dance

(Story)

Sep 18, 2018

Boys Varsity soccer beats program history record

(Story)

Sep 17, 2018

Boys soccer places fifth in Titan Tournament

(Story)