Boys wrestling places 6th at State, girls 21st
Freshman Sage Rosario wins first girls state championship
Kris Long, Print Editor-in-Chief
February 28, 2022
After a tough weekend, Manhattan High boys wrestling placed sixth and medaled eight wrestlers at the State tournament. Meanwhile, the only girls qualifier, Sage Rosario, pinned her way to a championship earlier in the week.
"It's always disappointing [not to place as a team]," head coach Shawn Bammes said. "We always want to contend for a trophy. Anything less than that is disappointing because that's the expectation we have for the guys. We didn't have a very good day on Friday. We turned around and showed a lot of pride and hope [Saturday] and we had a much better day."
Rosario competed in the first official girls state tournament MHS entered and took first after pinning all four of her opponents. As the sole representative of MHS at the tournament, she single-handedly scored 30 points. State was Rosario's third tournament wrestling in Kansas aftering moving to Manhattan in December.
"It's pretty cool," Rosario said. "Especially knowing that I got to represent all the other girls that were on my team, and all their support just meant the world to me."
The boys team qualified nine to state, including five of their seven seniors. They had a strong first round, with eight of their nine boys winning, but went sharply in the other direction during the quarters and semis. The team sustained numeros injuries during the first day of the tournament.
"We started off strong, we got all of our wrestlers through… we just went to town, we just kept battling, we just battled our hearts out," senior Easton Taylor said. "We couldn't get any to the finals [Saturday], which hurt. But we always just have to take that next best thing."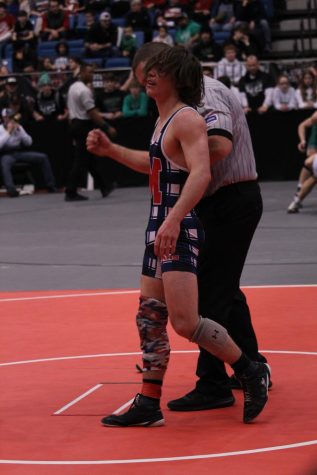 The team bounced back to win six of their eight placement matches on Saturday. All of the qualifying seniors medaled with Taylor taking third; Janzten Borge, Blaisen Bammes and Talique Houston placing fifth; as well as Tucker Brunner coming in sixth. Underclassmen medalists included freshman Logan Lagerman taking third, sophomore Jameal Agnew placing fifth and junior Jaxon Vikander taking fourth.
Taylor was ranked first throughout much of his high school career after taking third in the state as a freshman, first as a sophomore and second his junior year. He lost to Junction City's Patrick Foxworth — who he had beaten previously this season — in the semifinals after suffering a hamstring injury.
"I'm obviously not happy with [third]," Taylor said. "But you know, at the end of the day, it's my last match and I was glad to wrestle it and I'm glad to finish where I did."
Bammes, a four-time state qualifier, took fifth after coming into the tournament ranked second and spending much of the season with a first place ranking.
"When I lost in the quarters it hit me really hard," Bammes said. "Coming into this I wanted to win it for my grandpa, because my grandpa passed away from cancer the day after the Junction City dual. So I've had that as a motivator for this… and I really don't think I would have been able to make it as far as I have without my teammates."