District hosts discussion on future of East Campus
Kris Long, Print Editor-in-Chief
January 28, 2022
USD 383 hosted community conversations at MHS East Campus last Tuesday and online Friday to allow Manhattan Community members input on the future of the historic school building.
"People have thoughts that are beyond what we as educators [know]," Assistant Superintendent Eric Reid said. "We know what we do along our end, but if the community needs space… who wants to be that partner to take advantage of square footage that may be available? I don't know who all those people are."
The land 901 Poyntz currently sits on has held a school since the early 1900s, serving different grade levels of Manhattan students. It has been added onto over the years, and now consists of two original buildings and a 1950s extension that holds the cafeteria and a gym space not connected to the school. However, with the expansion to MHS West set to finish by the end of 2022 to host all four high school grades, the old building's use as a ninth-grade center will become obsolete.
The district teamed up with the Kansas State Center for Civic Discourse and Democracy to guide the small-group conversations. The participants considered what needs the Manhattan community has, how the East Campus space might fit those needs, what would be required to transform the space and who outside the district could use the space. They also limited the discussion to use of the cafeteria, restrooms around the cafeteria and the art wing classrooms near the extension.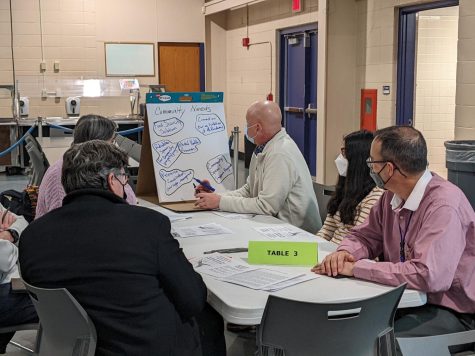 "We talk about [these types of community issues] as wicked problems," Director of the K-State Center for Civic Discourse and Democracy Timothy Shaffer said. "There's not a right answer to this. Right. There might be certain things that folks say like, 'maybe it should be that' but there's not a technical solution to this and so it requires people to think through it and say, 'what are the possibilities?' 'What are the drawbacks,' all that sort of stuff."
What is certain is that 901 Poyntz will no longer function as a school because of the serious renovations it needs and the lack of funds to do so. USD 383 will use the space for their non-attendance building needs first, which primarily involves the Families in Transition Closet that provides free clothing gathered from donations for USD 383 students in need as well as offices. Other community organizations, such as the Community Kitchen, who typically hold dinners in various churches but are interested in a more permanent location, will then be invited to make use of the space.
"Through this whole process, we have to prioritize what the district needs first for pre K-12," Reid said. "It's 'what do we need' and then 'what can come next?' And then it's just about, we want to partner with some of these groups. [But], anybody [who] wants to use those spaces, they have to realize they have to come in and remodel it to be what they want it to be and bring in their own equipment."
The district will not be spending money on renovation projects for non-educational or district-related projects. Any changes to the building – which is likely, considering its current condition – will be the responsibility of the organization. A lease agreement will likely be agreed upon. The district also plans on taking usable equipment currently housed in the school like chairs and tables, desks and kitchen equipment.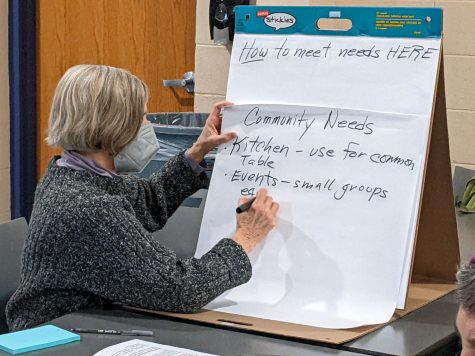 "Anything that has value and worth, we're taking and we're keeping and we're moving," Ried said. "School tax dollars… don't need to go supporting those types of things. Now, if we don't have use for it, we don't need it, we can't sell it, I think it's a great use for something like that instead of checking the dumpster."
Of the 29 Manhattan citizens in attendance, most ideas centered around social services. Because the building already has a functioning cafeteria, many focused on having a centralized community kitchen for families in need. Others mentioned emergency shelters, senior services, child care, community classes or business endeavors.
"I think it was very optimistic. A lot of great ideas, a lot of shared thoughts, a lot of respect," said discussion participant and K-State professor of social work Dr. Lorenza Lockett. "I liked the civilness of it… everything wasn't exactly fitting but no one got bent out of shape because their idea was different than somebody else's idea."
The district will hold a second round of discussions beginning Feb. 15 from 7-9 p.m. at 901 Poyntz.
"I have a love-hate relationship with this building," Reid said. "I love it for what it is and it's got space and it's got character. It's got all these things. It's just when you want to fix something, it's hard. Because it's 100 years old, and they did not make it for the internet, they didn't make it for plumbing today, they didn't make it for heating systems today, electrical systems. But they sure did build it to last."