Thespians performs "She Kills Monsters" at State Conference
Five mainstage shows from high schools around Kansas.
Over 200 workshops to choose from.
A high school thespian spectacular.
Despite the poor weather, Manhattan High Thespians Troupe 941 made their annual trip to the Kansas Thespian Festival and performed the fall play "She Kills Monsters" after only two practices, armed for the first time with memorized fight sequences and a U-Haul filled with the show's set.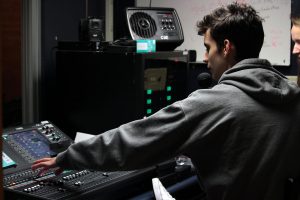 "The Thespian State Conference was non-stop from the minute we arrived to the second we left," senior Brandon Luck said. "The conference had theatre workshops to attend and various theatre and tech challenges to participate in."
While MHS Troupe 941 has been attending the conference for years, this year was different for the seniors in the group as this was the first time they actually performed a show in front of the state audience in Wichita.
"The conference was amazing this year since I'm a senior and we performed 'She Kills Monsters,'" senior Rose Carter said. "We had a full house and there were even some kids who stood in the aisle to watch. It was emotional for the cast."
Although Thespians were excited that they had the opportunity to perform their fall show, they were nervous, due to not rehearsing it in a while. Prior to the trip, the cast spent time rehearsing the show at least two times through to freshen up their performance.
"Since we only had two practices before the show, I wasn't sure how our play would go," Luck said. "Luckily for us, everyone pulled through and it was one of the fan-favorite shows at State."
Aside from the more theatrical events of the conference, the students involved in Thespians who are more tech-focused also enjoyed that the conference was open to anyone and everyone who is involved within a production set, not just actors.
"Personally, I felt the conference, from a technical perspective, went well," junior Zane Pierson said. "We constructed our entire set from a U-Haul van, drove down there and watched the shows. It was a great time."
Many of the students who went to State were filled with excitement for each day because of the social and learning aspects of this experience.
"Due to all of the work we did, I only got about two hours of sleep a night," Luck said. "Although this was absolutely exhausting, me and my roommates had a blast goofing off in the hotel each night. I collapsed as soon as I got home."
Since most of the students who attended had already been to State in previous years, their expectations remained a bit neutral. However, for some of the newer attendees, going to State sparked a bit of interest in seeing what would be provided at State.
"I expected State would be semi-boring with some fun sprinkled in, but I was dead wrong," Pierson said. "Just being there, seeing shows and performing shows with my friends is a once in a lifetime event."