Cross country wins Emporia meet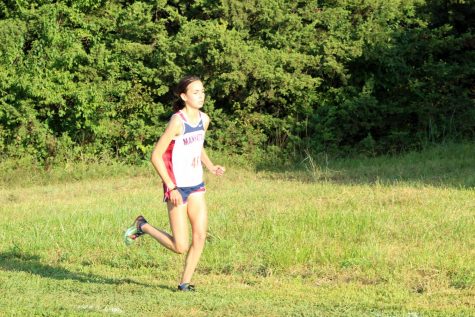 Manhattan High won their second cross country meet of the season last Saturday in Emporia.
"The kids competed really well," head coach Susan Melgares said. "They took care of business basically."
Manhattan High was the top scoring team, winning both boys and girls Varsity. Saint James Academy followed in the girls Varsity race, and Maize got second in the boys Varsity race. The Girls Varsity team finished with a score of 29 and the Boys varsity team finished with a score of 22.
"The guys had a really strong pack and got out and started off really strong," Melgares said. "The girls started back a little bit and then reeled in the kids from the other schools to get the win there."
Senior Daniel Harkin and junior Jenna Keely were both the overall top scorers for each of their races. Harkin finished with a time of 15:52.8 and an eight second lead against senior Treyson True from Emporia High. Keely had a time of 19:14.8 with 1:28.6 lead.
"Personally, my goals were just to have a season best, which I did take off a few seconds from my last time," Keely said.
Based off of this most recent meet and the first meet, the team is still looking at ways they can improve their scores to maintain a winning streak.
"We just got to work on closing the gaps between our runners on the girls and the guys teams and just closing it up," Melgares said.
The first two meets have really exceeded the team's expectations. Because of the two wins MHS has had, the team is really looking at a promising season.
"It's promising. The kids really did the work in the summer and set themselves up to compete really well now," Melgares said. "I look forward to seeing some exciting things as the season progresses."
While being in a pandemic, there are certain changes to the way the meet is held. For example, no spectators are allowed at the meets.
"It's really weird to have no spectators at an entire cross country race because there's no people cheering for you," Harkin said. "So, it's kind of weird to like, just run and there's nobody."
Another new change that occurred during the meets was that each runner is required to wear a mask for the first 200 meters of a race.
"We had to run our first 200 meters of the race with a mask on," Harkin said. "That was a little tricky because that can decrease the amount you can, like, breathe in."
Because of the possible cancelation of sports, MHS is grateful that they were at least able to participate in two meets.
"I'm just really thankful that we're able to have a season so far," Keely said.
The next cross country meet will be held in Lawrence on Sept. 26.