Cross Country takes first across all five teams
Holding onto last year's streak
For the second year in a row, the Manhattan High cross country team placed first overall in all five races at the MHS Invitational season starter.
"[I'm] super proud as … we're without some runners, either graduating or due to injury," head coach Susan Melgares said, "so it's awesome to see them come back so strong [and] overcome some of those things … Our younger ones are coming in and lifting us up too."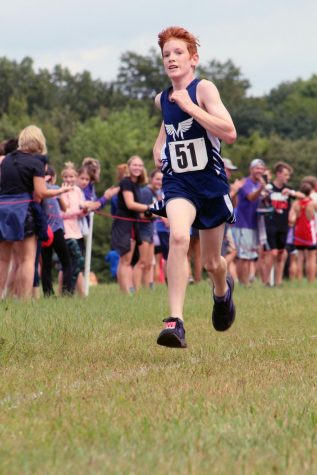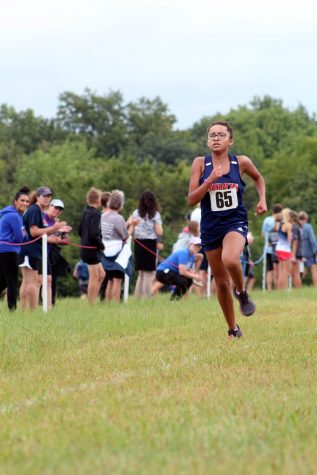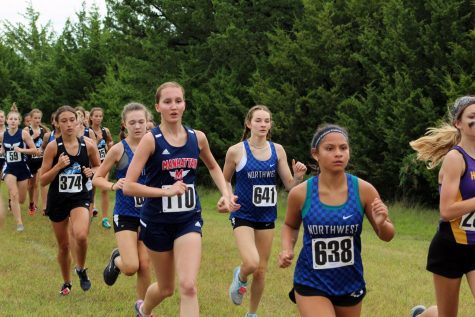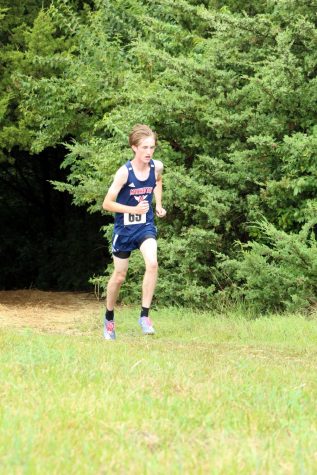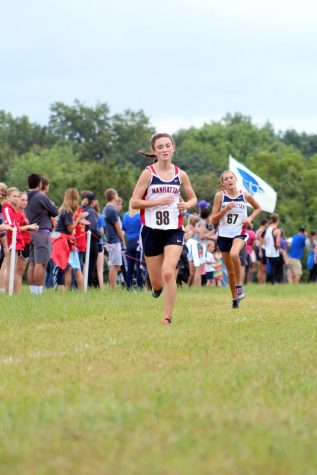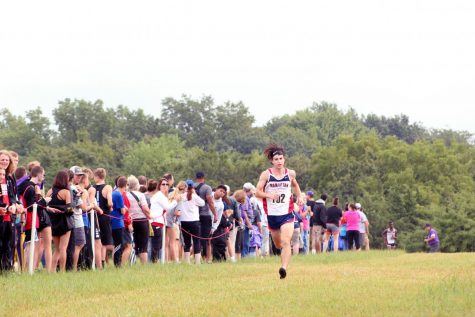 In contrast to last year's home meet, all races were delayed by two hours due to rainy weather. The course was also rerouted to avoid muddy areas and no gater could lead the first runner through the race — volunteers instead stood at specific landmarks to help runners know where to go next. Additionally, the order of the races was changed to boys first, girls second.
"You just … have to run a little bit more of a tactical race because [with] the mud everyone is going to slip around," senior Ben Moiser said. "[We] just [have to be] a lot more careful than usual."
The boys Varsity team had three players in the top ten, with Mosier and senior Max Bowyer in third and fourth respectively and freshman Landon Knopp in seventh. Junior Kolby Grogg in 14th and senior Parker Dawdy in 21st helped give the team a final score of 47, just 12 points away from Wamego in second place.
"I'm really proud of all the runners on the teams," Mosier said. "I think they did a great job. Everyone picked up a first place finish."
On the other hand, the girls Varsity team had all five players in the top 20, with sophomore Amelia Knopp in third, freshman Rebekah Pickering in fourth, sophomore Haley Henningson in 14th and seniors Rachel Corn and Morgan Turner in 19th and 20th place. Manhattan High and Washburn Rural tied as a team with a score of 58, however junior Saylor Salmans placement of 35th helped the team win the tiebreaker by just three points.
"[Today] was really exciting," Amelia said. "Our coaches and our parents and families were really proud of us. I think everyone was just excited for the first meet to have such good success."
Both Junior Varsity teams and boys 'C' team had hefty leads for their first place finishes, with all of their top five players in the top 11. For boys Junior Varsity, sophomore Ethan Bryant took first, juniors Silas Mills and Anderson Arnold took third and fourth, senior Jett Ford fifth and sophomore Aidan Hilton seventh. For girls Junior Varsity, freshman Malea Jobity medaled first, senior Halle Gaul third and freshmen Amelia Anderson, Jalissa Jobity and Soleil Disney took fourth, fifth and ninth respectively. Finally, for boys 'C' team, freshmen Jack Spiegel and Jude Say placed first and second, sophomore Beckham Hough sixth, sophomore Elijah Porter eighth and sophomore Kael Schwabauer 11th.
"We're very, very happy about [sweeping the meet] and proud and try not to take that for granted," Melgares said. "It didn't just happen … These kids, a lot of them were out here over the summer … when it's not fun to get up [and] run at seven in the morning. So, it's just a testimony to their hard work."
The team will play at Emporia next Saturday.
"[We're] looking forward to Emporia," Amelia said. "It's a pretty flat course so I think a lot of us are aiming to get our times down and I think we're feeling confident after … sweeping our home meet [and] just knowing that we can compete with some good teams."