Marching band performs at Central States Marching Festival
The Manhattan High Marching Band performed at the Central States Marching Festival on Saturday, receiving a score of I.
Many band students have never experienced a normal marching season or festival. Because the 2019 band was so large, there weren't enough uniforms so instead the students wore windbreakers throughout the season and wore western costumes at the festival unlike their usual band uniforms. 2020 was an abnormal season with the festival canceled.
"I'd say I'm excited because we [have] also never had full uniforms," junior Soledad Rodriguez said. "It's just a new experience for everyone."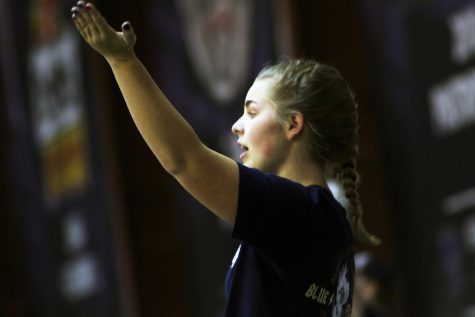 The seniors are the only class who have had uniforms in a previous season. Earlier in the day, the band attended a clinic where they were given feedback as to how their performance was before the actual performance.
"Even the seniors, they've only done this once and the juniors, we have less experience," Rodriguez said. "We've never had a clinic, like not a single class has had a clinic so it's all a new experience."
The festival included 40 high schools performing.
"It's been a really long time and it's a really awesome experience to play in the [Bill Snyder Family Stadium]," senior Tanner McIntosh said.
The students were excited for the festival before it began. The show consisted of "Thriller" by Michael Jackson and "Back in Black" by AC/DC.
"Our audience is bands so they know the work we put in, they know what we've done," senior CJ Hewins, drum major, said. "So they know how hard it is to get [the] products that we've gotten, so it's just so fun and it's so hype."