Indians prevail over Blue Valley Northwest
Though it took some time to get going, Manhattan (7-1) was grateful for the closeness of the game in the second half.
"It's always good to see where you're at," senior Jalin Harper said, "and we definitely got our pride checked that second half. It turned into a game and we stepped up and made the adjustments."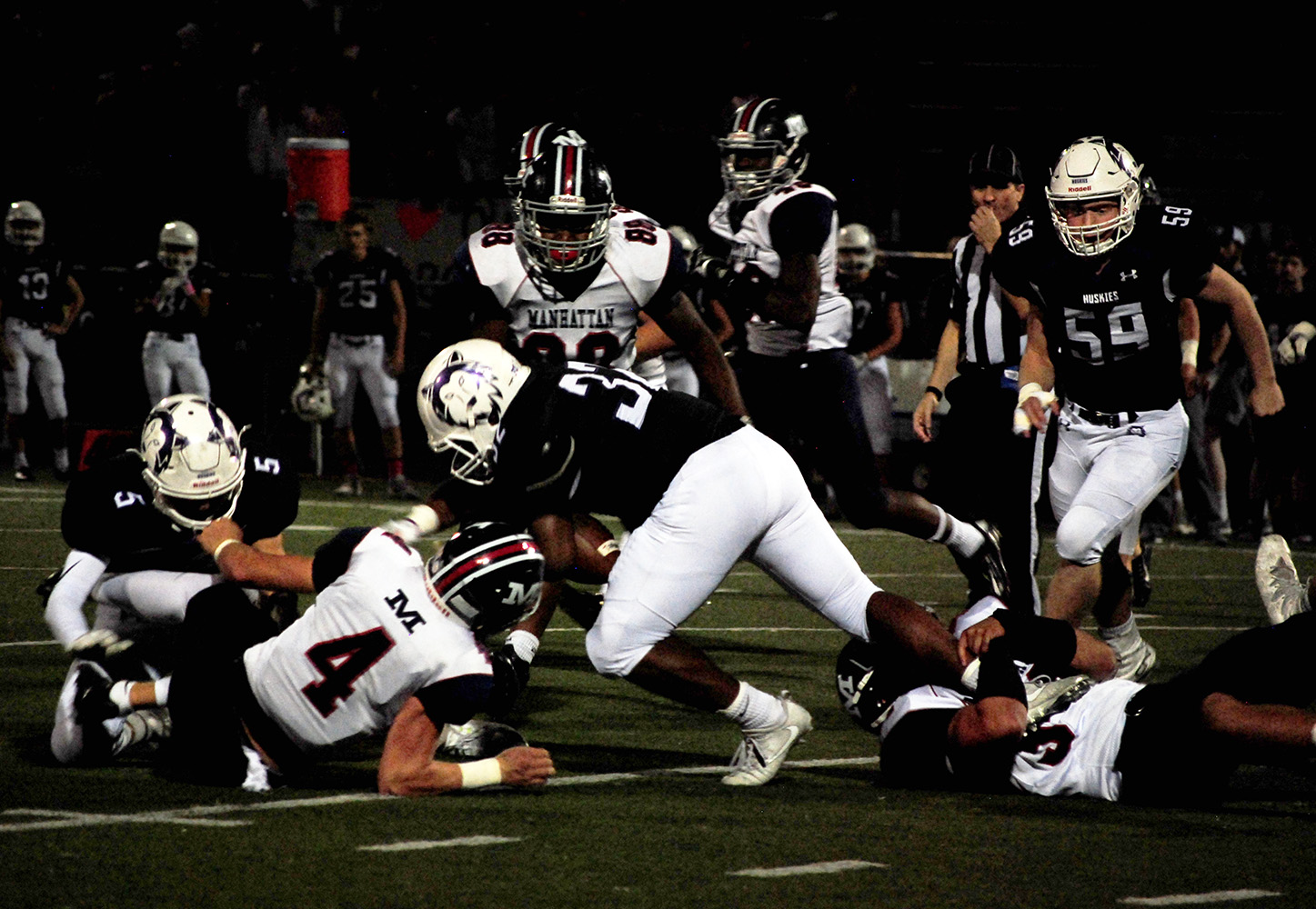 Though MHS beat Blue Valley Northwest (2-6) 50-22, the Indians didn't break away until the third quarter. Northwest was able to keep the game close thanks to long time of possession in the first half.
"It was difficult to find a rhythm on offense because we did score so quickly," head coach Joe Schartz said, "and we were just struggling to find something that we could sustain and help our defense by keeping their offense off the field."
Manhattan's two touchdowns in the first half came on 78- and 74-yard runs, thanks to juniors Kevontae McDonald and Jaylynn Liggons, respectively. As a result, MHS' defense was on the field for much of the first half. Senior Camron Drake prevented one touchdown with an interception, but the Huskies tied up the game by halftime.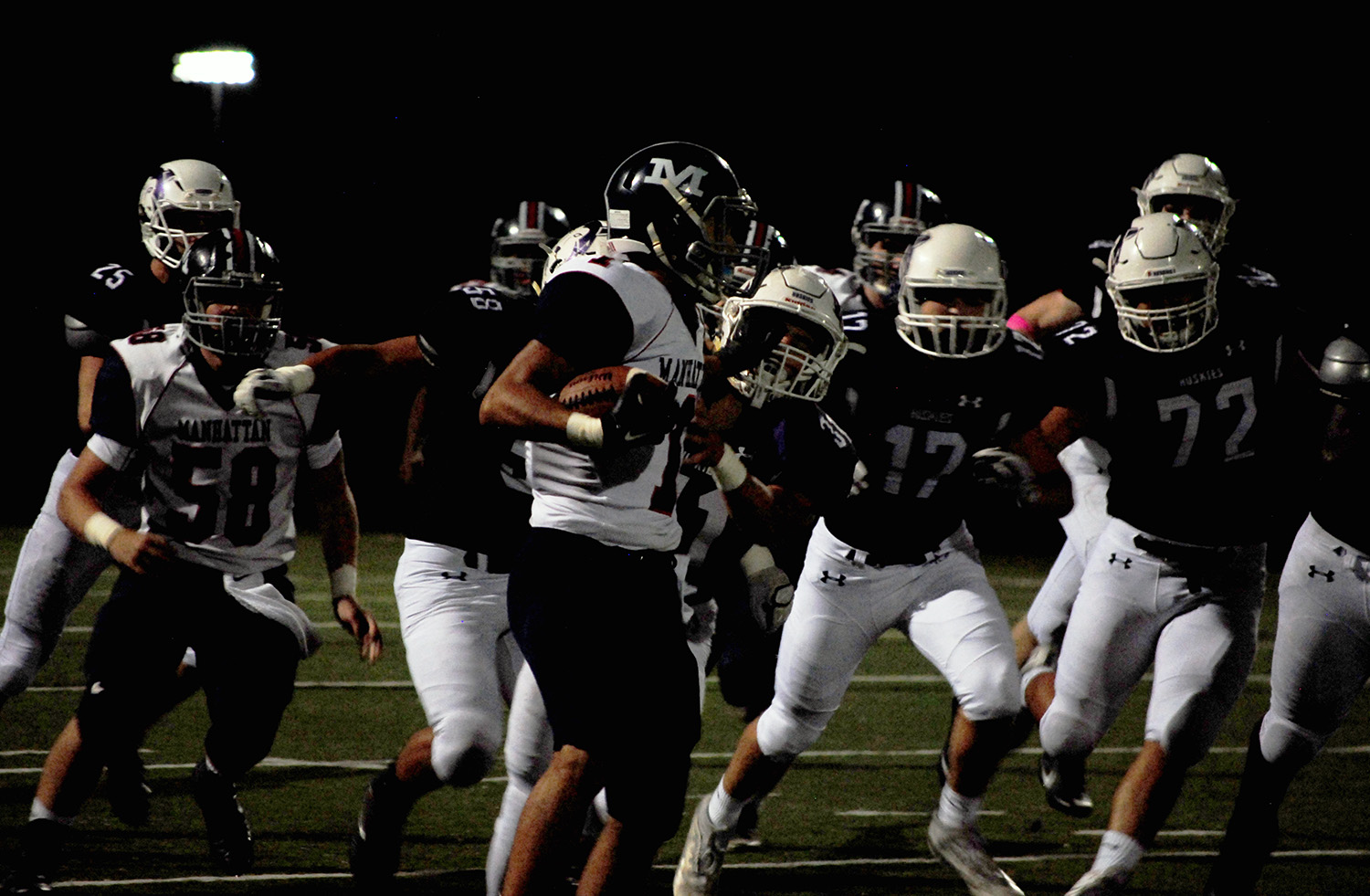 During the half, Manhattan was able to make some adjustments.
"The kids and coaches have always done a nice job at halftime of getting in there and making adjustments," Schartz said. "Blue Valley Northwest had a nice scheme, and it was a little difficult for us to get stopped, and we made a few adjustments and were able to get some stops and turnovers the second half."
Blue Valley's passing game gave Manhattan some issues. Senior quarterback Payton Hartman threw for almost 300 yards on the day.
"It was the fact that they threw the ball a whole lot and we had a little bit of some loose interpretation of the rules," Schartz said, "so our kids didn't really know what to do. We had several instances where our kids played things just perfectly, and we had some flags. You run that chance when you face a passing team like that, you know, it's a different game up here, but the kids overcame it."
The Indians were flagged 12 times for 135 yards over the course of the game. Blue Valley benefited in the third quarter, as it used 40 yards of penalties to score a touchdown, cutting into Manhattan's 28-22 lead.
"Some of those penalties we felt shouldn't've be called," Harper said, "but we can't deal with that, and we just got to move on to the next play. We didn't let it get to us and I think that's what helped us to win."
The Indians responded, with Harper taking the ensuing kickoff 80 yards for a touchdown.
"I didn't do anything," Harper said. "The blocks were all made, and I just had to run. I had the easy job."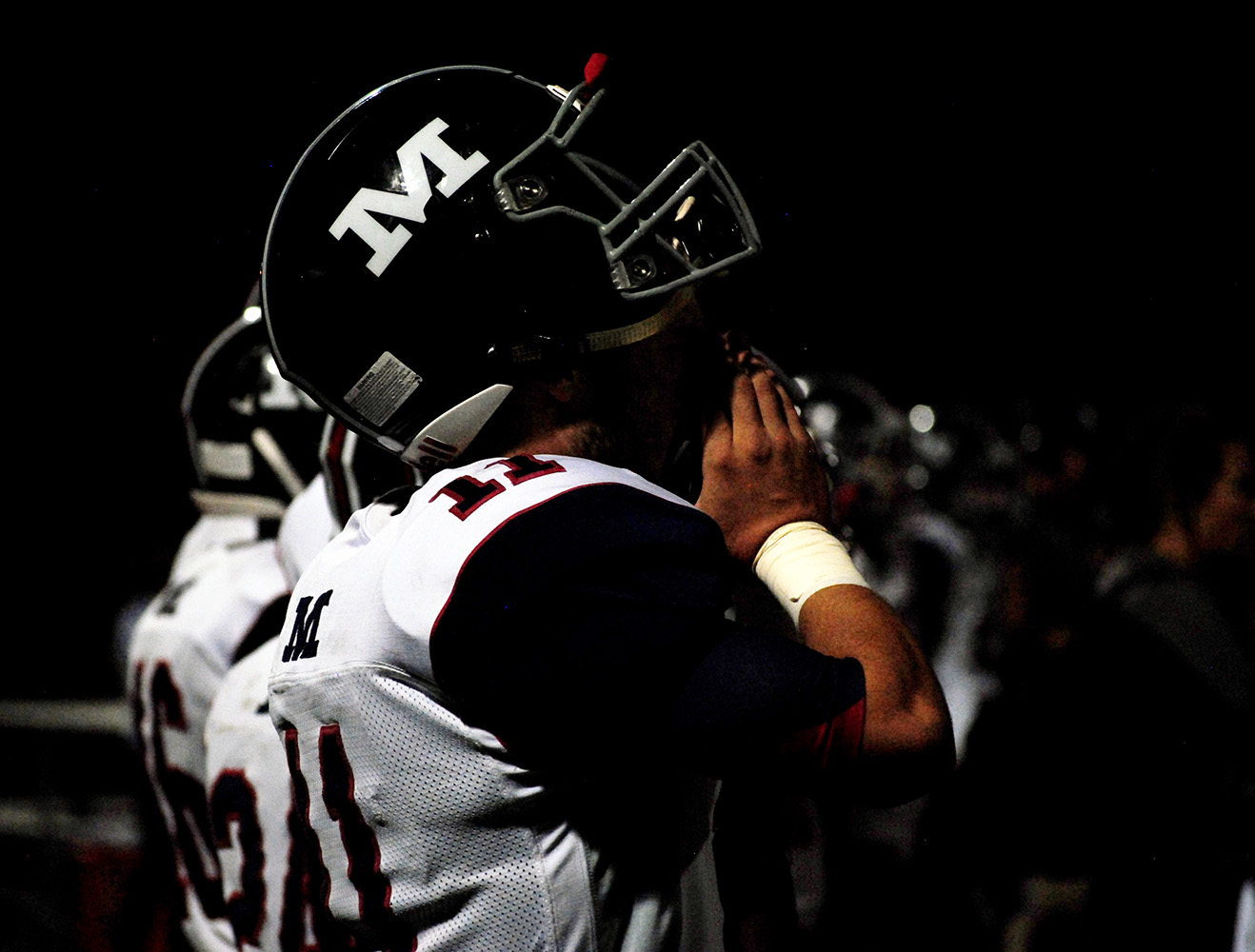 From there, Manhattan's defense proceeded to shut Northwest down.
"We really picked it up second half and got our defense started rolling," Harper said. "We saw what was working for them and we took that away from them, and I think that helped us."
MHS would add two scores late in the game thanks to an interception by junior Robert Houston and fumble recovery by junior Raeshon Moore. The Indians would cruise the rest of the way to a 50-22 victory.
The win secured Manhattan the No. 4 seed in the 6A West bracket. MHS will host Wichita East (3-5) on Friday night. Though the Indians now enter win-or-go-home mode, nothing changes from the mental aspect.
"Nothing changes because we approach every week we have to go 1-0," Schartz said, "and that's what we have to do to continue to advance in the playoffs. We're going to be right back at it tomorrow morning break the film down, and start working on our opponent, and our goal is to beat Wichita East next week."