Girls basketball endures tough game, sub-state champions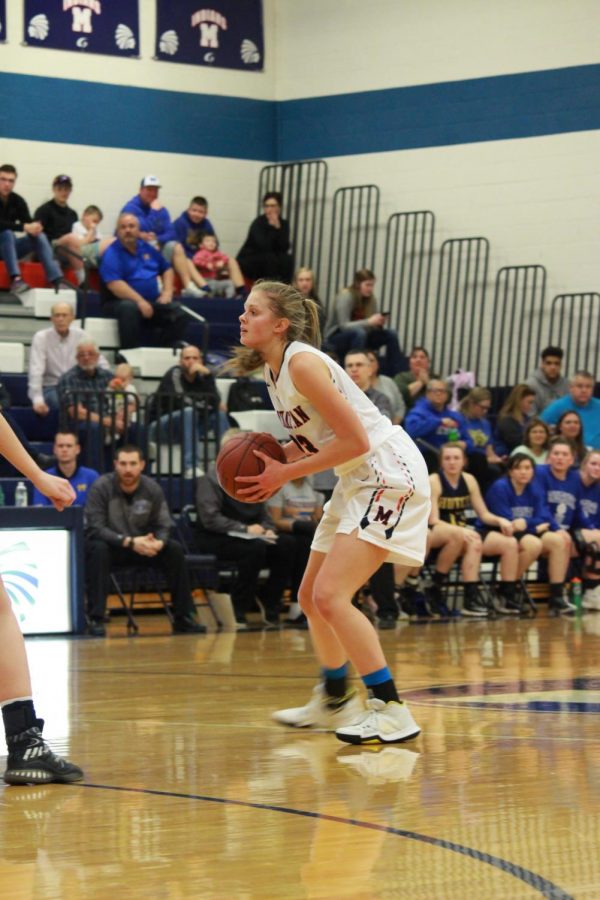 The Manhattan High girls basketball team came out on top of a close game to be named sub-state champions over Hutchinson on Friday, winning 49-40.
"It was tough with it being a close game," senior Chrissy Carr said. "I know that we had a lead so we just had to remember to stay patient and that we are up. Sometimes you shoot those quick shots and you forget that you have the advantage. I think we did a good job of staying composed and remembering we had the advantage and I think Coach Mall did a good job of reminding us of that."
From the beginning of the game, it was apparent this would be no ordinary competition for either team. The first quarter consisted of back-to-back long possessions resulting in little to no points for either team, as it ended 9-9. The Lady Indians took the lead in the second quarter, ending the half 21-14 thanks to the intensity of their defense.
"I thought we did a good job on defense," head coach Scott Mall said. "There was two or three times where we just didn't think to get out and guard a shooter. They had a few girls hit threes on us and they had some girls hit more three then they usually hit. I thought our girls did a good job of getting physical and posting up to stop the inside shots."
MHS continued with the lead, ending the third quarter with a score of 31-23. Their lead began slipping away during the fourth quarter with four minutes remaining. MHS rushed through three back-to-back-to-back possessions without scoring, while Hutchinson capitalized, allowing them to close the gap to five points.
"I thought the girls hung with it really well," Mall said. "We had a couple of bad stretches [once it got late in the game] we were really anxious on offense and tried too hard to make something happen. They are tough to defend because they are a patient offense but I thought our girls did a really good job of keeping the intensity up throughout a long defensive possession."
While both Worthington and Johnson made several defensive plays, including a block from Johnson, both put points up as well. Johnson scored six points, while Worthington scored 10 points. Junior Kia Wilson and Carr were able to counter Hutchinson's momentum late in the fourth quarter using free throws.
"I would say the free throws made a difference," junior Kia Wilson said. "Hutchinson was trying to come back and we couldn't seem to get anything going on offense so I think free throws were huge there despite the fact that we were still up. Having the lead and then stopping them from totally closing the gap showed them that we had no intention of slowing down."
Wilson scored 14 points, her highest since her wrist injury and Carr scored 17 points. Both players scored four throws each during the fourth quarter Free throws accounted for more than half of the points scored by MHS in the fourth quarter alone.
MHS will continue onto the state tournament and play Washburn Rural on Wednesday in Wichita. The Lady Indians' last close game was against Washburn Rural on Feb. 6, which ended with MHS winning 55-50.