Girls basketball persistent in tough game, second game postponed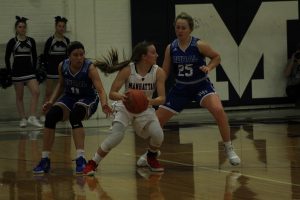 With winter weather brewing early into the new year, the Manhattan High girls basketball team was hopeful for two home-game wins last week against Washburn Rural and Topeka High.
Neither game turned out as they had hoped, as they lost to Washburn Rural on Tuesday and Friday's Topeka High game was postponed to Jan. 21 due to weather.
"We work[ed] really hard in practice leading up to [the games]," junior Zanaa Cordis said.
At tipoff for Tuesday night's game against Washburn Rural, the starters were juniors Jaiden Weixelman and Taylor Claussen as well as seniors Aloera Ostermann, Gaby Martinez and Cordis.
Throughout most of the first quarter, Washburn Rural kept Manhattan High on their toes, keeping MHS at a stubborn zero. Offense plays grew to be a significant struggle for the girls, which continued to cloud over them for the duration of the game. In the first quarter alone, Manhattan High gradually collected six fouls to Washburn Rural's one.
"We obviously got off to a really bad start," head coach Scott Mall said. "We … made a lot of mistakes on both ends of the floor."
Two minutes before the second quarter, Cordis sank a two-point shot, putting up Manhattan High's first score of the game. Unfortunately, that surge of energy took a hit when Washburn Rural threw the ball from half court at the buzz of the end of the first quarter and made it, putting the score at 11-2.
"The low point was I guess when that [Washburn Rural] girl made that three-pointer from half-court," Cordis said. "It kind of burned a little bit."
Once Manhattan High got back on their feet, Ostermann snagged a three-point basket following two three-point shots from freshman Amelia Knopp, bringing the score to 26-15 at the half with Washburn Rural still in the lead. Knopp accumulated in total 22% of the team's score by the end of the game.
"I try to not focus on [successful baskets]," Knopp said. "I just need to get back on defense and keep working hard."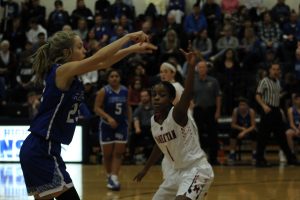 Jumping back into it after halftime, Cordis and Ostermann swooshed two-point baskets within seconds of each other. Knopp continued to put up a fight, making another three-point shot 50 seconds before the fourth quarter, bringing the score to 37-29 with MHS trailing close behind.
"I'm very proud of us," Cordis said. "We … kept on battling. We became scrappy. We went for those loose balls [and] we kept on pressuring."
In the last seven minutes of the game, sophomore Grace Dixon and Weixelman made consecutive two-point shots. Meanwhile, Washburn Rural continued to secure their lead. With just six seconds left, Ostermann sank a three-point shot, ending the game 53-41 in a loss.
"I thought … we brought great energy once we got past the mistakes that we made in the first part of the game," Knopp said. "I think it was a positive experience just being able to work through it."
Tonight, the girls will hit the road to play Emporia away and on Friday will play Highland Park at home.