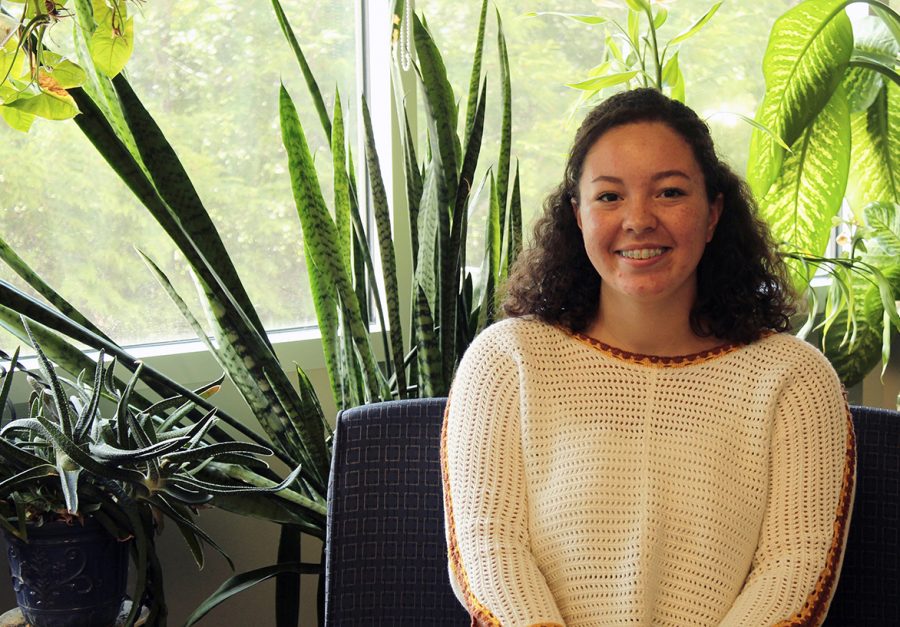 Junior Brianna Carmack, Entertainment Editor, is the epitome of the values of student journalism.
Carmack has strived to educate herself in the field of student journalism, beginning her education in her freshman year at Manhattan High.
By her sophomore year, Carmack had already proved herself a dedicated student, rising to the ranks of Opinions Editor within her first official weeks on staff.
"I kind of enjoy the stress of the class," Carmack said. "It makes me feel kind of productive… I like the fact that I can kind of go around the school and know the school a little bit better than I did freshman year, sophomore year… I enjoy the social aspect of it."
Carmack, an avid reader and writer, was drawn to journalism due to career aspirations. Her continued love of the activity lies within the creative outlet staff provides.
"I'm really into design and really into writing so I feel like a lot of the stuff that we do in this class could help contribute to the stuff that I want to do in the future," Carmack said. "I would like to do something where I can write stories for for some kind of publication, whether it's online or a newspaper or magazine; I just like to write."
Brianna Carmack , Entertainment Editor
Jan 13, 2021

Bowling has high expectations for new season

(Story)

Jan 13, 2021

College admissions scandal resurfaces after Loughlin's release from prison

(Story)

Dec 14, 2020

MHS band starts up food drive

(Story)

Nov 26, 2020

Vegetarian recipes for Thanksgiving

(Story)

Nov 26, 2020

Thespians host Coffeehouse held virtually through Zoom

(Story)

Nov 26, 2020

Pandemic affects functionality of Scholars Bowl greatly

(Story)

Nov 10, 2020

Lack of interest prohibits diversity of science clubs

(Story)

Nov 03, 2020

Cross Country competes in State

(Story)

Nov 03, 2020

Sustainability culture is toxic

(Story)

Oct 20, 2020

Cross country comes out victorious

(Story)

Oct 20, 2020

'Emily in Paris' lacks character depth

(Story)

Oct 08, 2020

Cross Country finishes in first, third win of season

(Story)

Oct 08, 2020

StuCo attends virtual regional conference

(Story)

Oct 01, 2020

New town, new opportunities

(Story)

Oct 01, 2020

Cross Country finishes in third place

(Story)

Sep 29, 2020

StuCo elections all virtual for 2020-2021 school year

(Story)

Sep 21, 2020

Clothing does not speak for sexual assault survivors

(Story)

Sep 15, 2020

Cross country wins Emporia meet

(Story)

Mar 18, 2020

Q&A: Colorado Spring Break travel experience

(Story)

Mar 03, 2020

Pescetarianism has bettered my life with amazing results

(Story)

Mar 02, 2020

Baseball prepares for upcoming season through conditioning

(Story)

Feb 24, 2020

Scholars Bowl steals state title from Olathe North, end of memorable season

(Story)

Jan 27, 2020

MHS Cheer travels to Dodge City to perform at Tournament of Champions

(Story)

Jan 15, 2020

Production for spring musical excites students involved

(Story)

Jan 15, 2020

Girls basketball persistent in tough game, second game postponed

(Media)

Jan 15, 2020

Thespians performs "She Kills Monsters" at State Conference

(Story)

Nov 18, 2019

Boys basketball hypes for new season

(Story)

Nov 18, 2019

Scholars Bowl undefeated with 9-0 record

(Story)

Nov 11, 2019

Scholars Bowl begins season with three successful meets

(Story)

Nov 11, 2019

Student Council hosts parking spot raffle

(Story)

Nov 04, 2019

Shooting threat leads to heightened security

(Story)

Oct 28, 2019

Artist of the Week

(Story)

Oct 28, 2019

One-Acts exchanges student performances for critiques

(Story)

Oct 28, 2019

'She Kills Monsters' shows relatability through crowd pleasing performances

(Story)

Sep 23, 2019

PowderPuff proves beneficial for relationship building, making memorable moments

(Story)

Sep 23, 2019

Juniors create account dedicated to pursuing their passion

(Story)

Sep 16, 2019

Students take on unexpected mission at State Fair

(Story)

Sep 16, 2019

Seniors start new 'Sticker Scrunchies' business

(Story)

Sep 16, 2019

StuCo elections for class of 2023 announce winners

(Story)

Sep 14, 2019

FCA hosts beneficial clothing drive for students at MHS

(Story)

Sep 09, 2019

'Emily Doe' shares her real identity, provides justice for sexual assault survivors

(Story)

Aug 12, 2019

County Fair gives opportunity for those with serious passions

(Story)

Aug 12, 2019

Cross Country begins new season, free to join

(Story)

May 13, 2019

Senioritis: One academically deadly disease

(Story)

May 07, 2019

'Extremely Wicked' shows power of manipulation through amazing performances

(Story)

May 06, 2019

Boys Golf strides to get better for upcoming tournaments

(Story)

May 06, 2019

New transgender guidelines proves impactful at MHS

(Story)

Apr 29, 2019

Vaccination is necessary, disease easily preventable

(Story)

Apr 29, 2019

Uncomfortable class environment prevents participation among students

(Story)

Apr 15, 2019

Options for prom outfits

(Story)

Apr 15, 2019

Boys golf wins first home invitational

(Story)

Apr 15, 2019

Two-year experience at MHS prevents diverse race for president

(Story)

Apr 09, 2019

Student Council hosts second blood drive of school year

(Story)

Apr 08, 2019

Student makes custom made boutonnieres and corsages

(Story)

Apr 08, 2019

MHS has appropriate mental health resources in place, needs better awareness

(Story)

Apr 08, 2019

Students go to K-State for many opportunities after high school

(Story)

Mar 27, 2019

'Five Feet Apart' powerfully signifies vulnerabilities of cystic fibrosis

(Story)

Mar 25, 2019

Club financial status inefficiently communicated

(Story)

Mar 04, 2019

Girls bowling finishes season by placing fourth at State

(Story)

Mar 04, 2019

MHS needs approachable, communicative principal

(Story)

Feb 10, 2019

Bowling falls behind by six points in home meet

(Story)

Feb 09, 2019

Scholars Bowl Takes Home State Award for Winning Championships

(Story)

Feb 05, 2019

Bowling places in the top three for last few tournaments

(Story)

Feb 04, 2019

 Scholars Bowl places first at regionals

(Story)

Jan 28, 2019

Bowling places first at home meet

(Story)

Jan 28, 2019

Mr. MHS succeeds in making for great show

(Story)

Jan 28, 2019

Misled information in media creates problems for everyone

(Story)

Jan 28, 2019

Scholars Bowl places second in home meet

(Story)

Jan 15, 2019

Bowling places at Topeka West quad

(Story)

Jan 15, 2019

Increased security has potential for preventing drug use of teens

(Story)

Dec 11, 2018

Ignorance causes hostility for LGBTQ+ community

(Story)

Dec 04, 2018

School emergency drills should be more randomized

(Story)

Dec 04, 2018

Recent Varsity tournament loss from overconfidence upsets Scholars Bowl

(Story)

Dec 03, 2018

Bowling tryouts begin for a new season

(Story)

Nov 15, 2018

Season's Greetings

(Story)

Nov 13, 2018

Media literacy proves beneficial for everyone

(Story)

Nov 06, 2018

Scholars Bowl comes out undefeated in their first meet

(Story)

Nov 06, 2018

Hate speech versus a hate crime

(Story)

Oct 29, 2018

Upcoming bond referendum will make a positive impact on the district

(Story)

Oct 29, 2018

MHS students go to KU, compete in programming, engineering contest

(Story)

Oct 29, 2018

Choir rocks the house with amazing performance

(Story)

Oct 02, 2018

Dance team wows MHS with pep rally performance

(Story)

Sep 27, 2018

Students take interactive trip to K-State Greenhouse

(Story)