Athlete of the Week: Ava Bahr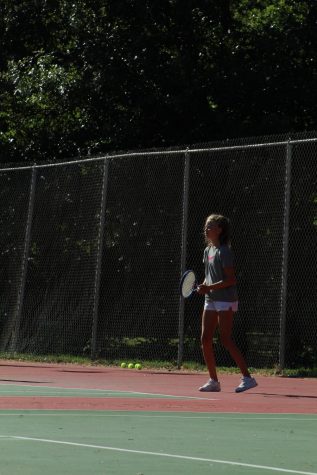 Achievements?
I got second at JC League with my doubles partner. I've won a few games. This is my first year playing on Varsity. I haven't gotten to state yet.
Why did you choose tennis?
Well actually I hadn't been playing tennis for very long. I started putting in a lot of time the summer before freshman year and I played a little bit when I was younger, but I just really got back into it because I wasn't planning on playing a fall sport, but I thought I should try tennis and I ended up really liking it.
Favorite part about competing?
I actually like playing with my doubles partner because it's a really good team game. And I love competing against all the different teams because each game is never the same and you just have to adapt to the way the teams play and get a win.
What's it like being on Varsity this year?
It's been a really good experience. The competition is definitely a step up and I actually have a new doubles partner. We've never played together before this year so it's been fun to get to play with her, and figure out each of our tendencies and weaknesses and play to the best of our abilities.
Leave a Comment