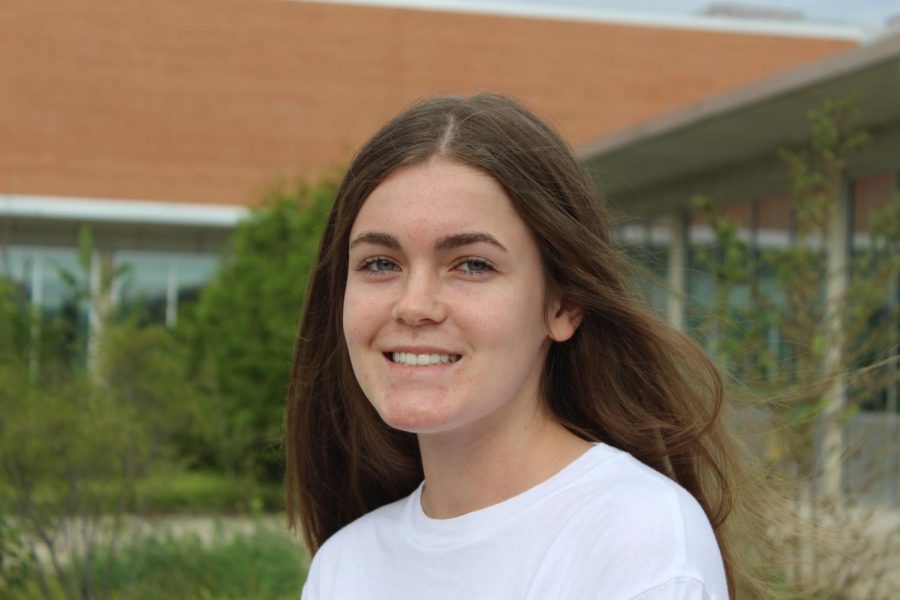 Junior Riley Williamson, former 21st Century Journalism student, is the definition of an epic comeback. After taking time to fulfill her other aspirations, such as soccer, she has returned to Manhattan High journalism for the 2018-2019 academic school year.
Williamson's decision to return to publications on the Blue M yearbook staff was prompted by encouragement from a publications recruitment letter and memories of her time in the introductory class. She is excited to learn more about the design process and be a member of the team.
Her hobbies outside of school include volunteering with her church, being an active member of her youth group, and playing soccer for both school and travelling teams. She also likes to read in her spare time and, just like every person, hang out with her friends.
While she does not yet know what she wants to study, Williamson's post-secondary goals are to follow in her family's footsteps and attend college at Mississippi State University.
"I'm just looking forward to seeing the design process of the yearbook and being a part of [the yearbook]," Williamson said.
Riley Williamson, Staff Writer
Mar 27, 2019

Blue Light Journal shows off student creativity

(Story)

Feb 05, 2019

Super Bowl Halftime Show left fans unsatisfied

(Story)

Jan 29, 2019
Jan 28, 2019

2019 Oscar Nominations leave students hopeful

(Story)

Dec 11, 2018

Culinary classes participate in food truck designing

(Story)

Dec 03, 2018

Contest opportunity for Blue Light Journal

(Story)

Nov 06, 2018

Students celebrate "Day of the Dead"

(Story)

Oct 29, 2018

Girls golf successful at state tournament

(Story)

Oct 29, 2018

Preparation helps with ACT

(Story)

Oct 29, 2018

Spanish Club has cultural culinary event

(Story)

Oct 15, 2018

Varsity golf state meet postponed

(Story)

Sep 27, 2018

Acknowledging BSU's history, new changes

(Story)

Sep 17, 2018

Golf delays for bad weather

(Story)

Sep 17, 2018

BSU starts year with club meeting

(Story)

Dec 19, 2016

"The Grift of the Magi" makes for exciting continuation of series

(Story)

Dec 19, 2016

Freshmen prep for first-time finals

(Story)