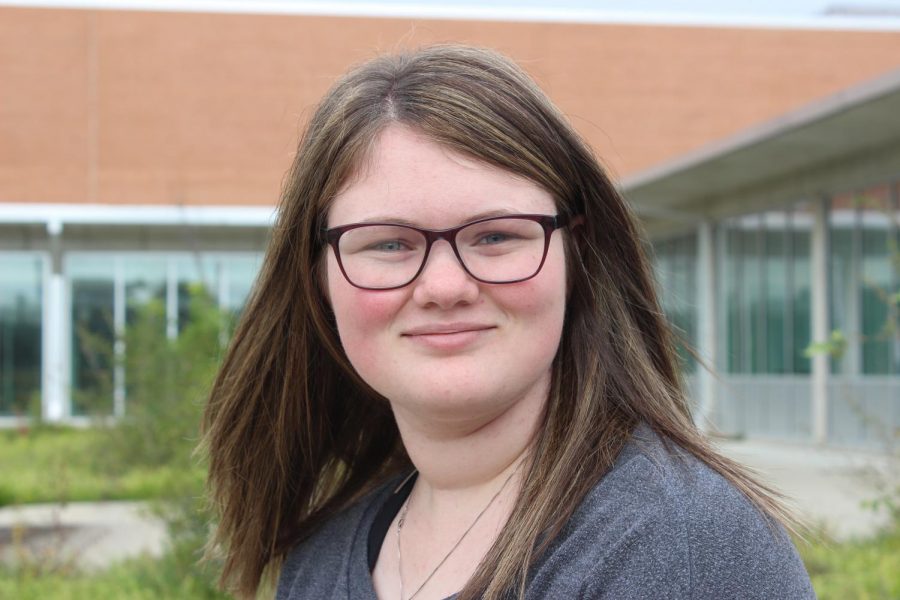 Hannah Heger, features editor, is a junior at MHS. She eventually wants to grow up to be a veterinarian because of her immense love for pets, specifically dogs.
She has grown up with two older brothers, Alex and Evan. While she does love them she happens to be quite different from them.
"I've always liked to read," Heger said, "I'm the only one out of my siblings who likes to read."
She reads anywhere that she gets a chance and uses all her free time to do it. Immersing herself in many different book series making sure to read in new places all around Manhattan.
While you might think this is why she joined staff it actually isn't her main incentive. Although Heger doesn't think she's a great writer some of her now-fellow staff members convinced her to give it a shot. While the class can present many challenges Heger enjoys being on staff.
Hannah Heger , Features Editor
Mar 03, 2020

Behind the dieting process

(Story)

Feb 24, 2020

SADD reaches out to other clubs for Spring Fling

(Story)

Nov 25, 2019

Beach Museum uses regional art, technology

(Story)

Nov 11, 2019

14 stroke improvement

(Story)

Nov 04, 2019

Student guide for breakfast nutrition

(Story)

Oct 28, 2019

Pumpkin carving tips and tricks

(Story)

Oct 28, 2019

Girls golf ranks low at state

(Story)

Oct 07, 2019

Girls golf competes in week-long tour

(Story)

Oct 07, 2019

Burnout and the real causes of senioritis

(Story)

Sep 23, 2019

The real deal about fires and how to respond

(Story)

Sep 23, 2019

Realities of a Highschool SRO

(Story)

Sep 16, 2019

Student actors prepare fall play

(Story)

Sep 16, 2019

Girls Golf continues winning streak at Seaman invitational

(Story)

Sep 09, 2019

Four-way tie at Seaman Invitational for girls golf

(Story)

Sep 06, 2019

FCCLA attends Take AIM conference

(Story)

Aug 12, 2019

Advice for Juniors

(Story)

Aug 12, 2019

Girls golf prepares for upcoming season

(Story)

Aug 12, 2019

Digital Learning Lab adopts new program

(Story)

May 13, 2019

College Signing for MHS Seniors

(Story)

May 13, 2019

Tennis finishes season placing fifth at State

(Story)

May 06, 2019

Boys Tennis triumphs at Regionals

(Story)

Apr 29, 2019

GSA host movie night for MHS students

(Story)

Apr 29, 2019

Boys tennis prepares for League with back to back meets

(Story)

Apr 15, 2019

GSA celebrates with Pride

(Story)

Apr 15, 2019

Teaching should not be judged from unqualified students

(Story)

Apr 08, 2019

Softball sweeps at Junction City

(Story)

Mar 26, 2019

Boys tennis places first at Washburn Rural Quad

(Story)

Mar 25, 2019

SADD prepares Spring Fling

(Story)

Mar 25, 2019

Tennis prepares after setbacks

(Story)

Feb 26, 2019

BSU hosts open poetry slam

(Story)

Feb 05, 2019

SADD seat belt survey postponed

(Story)

Feb 04, 2019

GSA ice skates for club bonding

(Story)

Jan 28, 2019

Students working for greener house

(Story)

Dec 11, 2018

Recycling to better environments

(Story)

Dec 11, 2018

Student excels in stained glass

(Story)

Nov 30, 2018

Cadavers trip shows medical opportunities

(Story)

Oct 29, 2018

A Guide for first time car buyers

(Story)

Oct 29, 2018

SADD celebrates Red Ribbon Week

(Story)

Oct 26, 2018

Girls tennis finishes season

(Story)

Oct 26, 2018

SADD begins new safety program

(Story)

Oct 02, 2018

Girls varsity tennis plays unusual back to back games

(Story)

Sep 27, 2018

Girls Varsity tennis defends home

(Story)

Sep 17, 2018

Girls tennis sees new competition

(Story)