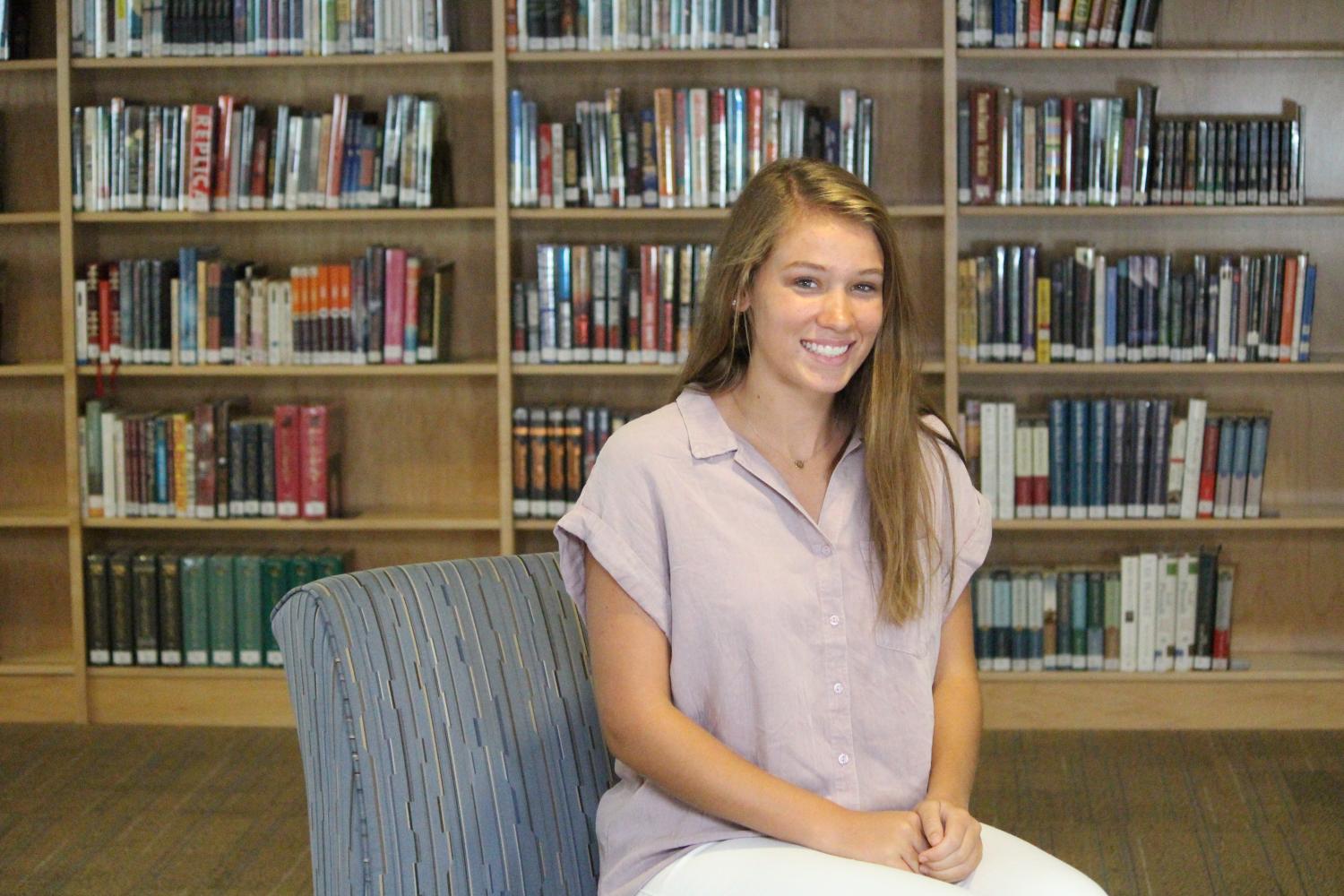 Megan Klug, a senior at Manhattan High School, is the editor-in-chief for the school yearbook. She has been a part of the Manhattan High School Mentor staff for almost four years. She is very committed to working for the Mentor, and has been ever since she started there her freshman year. She first started working for the Mentor when her brother, who was already a part of the staff, recommended she join the class.
Her favorite kinds of movies are comedy movies. More specifically, her favorite movie is 10 Things I Hate About You. Her tastes in music vary significantly, as she listens to "a little bit of everything", but her favorite song to listen to is the pop rock single "I Lived" by OneRepublic. As with her tastes in music, she has a large variety of tastes in different television shows. Her favorite show to watch is the famous sitcom "Friends". Bringing up the subject of academics, her favorite class in school right now is Advanced Placement Spanish.
What she hopes to do differently with her staff this year is be more timely on stories and assignments, since this year she has a larger number of people in the group. If she were to give advice to someone new to the Mentor staff, it would be "don't be afraid to talk to new people".
Megan Klug, Blue M Editor-in-Chief
May 24, 2018

Value the time you spend

(Story)

May 08, 2018

Students study effectively

(Story)

May 08, 2018

'Infinity War' does not hold back *Caution Spoilers*

(Story)

May 08, 2018

Softball swept by Topeka High

(Story)

Apr 26, 2018

Why People Believe in Conspiracy

(Story)

Apr 26, 2018

Softball drops two games to Washburn Rural

(Story)

Apr 17, 2018

Making social media accounts private can avoid an invasion of privacy

(Story)

Apr 17, 2018

Softball sweeps at home

(Story)

Apr 10, 2018

The Effects of Stress on the Body

(Story)

Apr 03, 2018

Society's Quality of Equality

(Story)

Apr 03, 2018

Softball build on past success

(Story)

Dec 19, 2017

Thomas Rhett's 'Marry Me' directed flawlessly

(Story)

Oct 16, 2017

Trick-or-Treats to chomp into

(Story)

Oct 02, 2017

Fuller House season 3 declining in quality

(Story)

Sep 28, 2017

"IT" sets new expectations for horror movies

(Story)

Sep 12, 2017

Fall Fashion Essentials

(Story)

Sep 12, 2017

TV Show coming this fall

(Story)

Aug 29, 2017

Old Dominion releases second official album

(Story)

May 15, 2017

Softball splits on senior night

(Story)

Apr 14, 2017

Softball swept by defending 5A champions

(Story)

Apr 03, 2017

Softball splits opening night

(Story)

Oct 24, 2016

Tennis ends season at state tournament

(Story)

Oct 16, 2016

Tennis ends season at state tournament

(Story)

Oct 10, 2016

Tennis team advances to state tournament

(Story)

Oct 03, 2016

Gavin DeGraw releases new album

(Story)

Sep 19, 2016

Tennis places third at home quad

(Story)

Sep 12, 2016

Tennis starts season off with success

(Story)

Sep 12, 2016

Stop Over Exaggerating the illnesses at MHS

(Story)

Aug 29, 2016

First Tennis Meet of the Season Postponed

(Story)

May 16, 2016

Swim team success awaits news on state

(Story)

May 09, 2016

Swimming competes in final meet

(Story)

May 03, 2016

Joyce expresses through art

(Story)

Apr 25, 2016

Softball sweeps Highland Park

(Media)

Apr 25, 2016

Swim and dive places in top three at two meets

(Story)

Apr 25, 2016

Tubman deserving of place on $20 bill

(Story)

Apr 12, 2016

What the Confederates really stood for

(Story)

Apr 11, 2016

Students attend Bieber's Purpose Tour

(Story)

Mar 30, 2016

Satire: NCAA championship game to be cancelled

(Story)

Mar 30, 2016

Malik's debut album applies new sound

(Story)

Mar 28, 2016

Swimmers start season, seek improvement

(Story)

Mar 08, 2016

Top Spring Break destination spots

(Story)

Mar 01, 2016

Fuller House puts modern twist on classic show

(Story)

Feb 23, 2016

Trending: how to register, vote

(Story)

Feb 22, 2016

Puth releases debut album

(Story)

Feb 02, 2016

A playlist for when you're sick

(Story)

Feb 01, 2016

Malik releases music after split from 1D

(Story)

Jan 27, 2016

Augustine auditions for America's Got Talent

(Story)

Jan 11, 2016

10 movies and TV shows to be on the lookout for in 2016

(Story)

Nov 09, 2015

Military Ambassadors created as organization

(Story)

Nov 02, 2015

Girls cross country takes State

(Story)

Oct 26, 2015

SADD students run Leadership Camp

(Story)

May 06, 2015

Seniors after MHS

(Story)

Apr 27, 2015

First annual freshmen dance ends as success

(Story)

Apr 06, 2015

Teenage jobs podcast

(Story)

Nov 17, 2014

One Direction Releases "Four"

(Story)