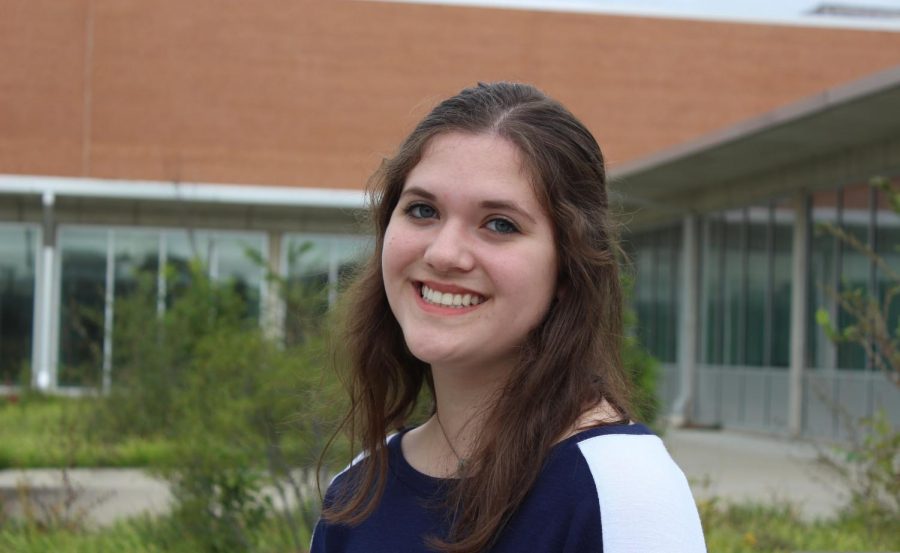 Kaitlin Clark, senior, is in her second year in publications, working as Print Editor-in-Chief for The Mentor.
Clark has always had a big interest in the journalistic field. Since second grade, journalism has been on her mind as her future career. This was inspired by her enjoyment of NBC broadcasts among other media sources as a child.
Clark is also an avid member of choir, which she has participated in since seventh grade. She is now both in Pops Choir and Chamber Choir. She is also a founding member of the Junior Conservation Team at Sunset Zoo, an active member of National Honor Society and also serves as the CTE journalism student ambassador.
In her free time, she enjoys singing, reading and writing/developing her novel. She also enjoys travelling and improving her leadership skills.
She plans on attending the University of Kansas next fall where she will study journalism under the News and Information track, and possibly Strategic Communications and Public Relations track.
Kaitlin Clark, Print Editor-in-Chief
May 13, 2019

Thespians plan Disney World trip with choirs

(Story)

May 13, 2019

Seniors give advice to underclassmen

(Story)

May 13, 2019

How to say goodbye

(Story)

May 07, 2019

History of celebration

(Story)

May 07, 2019

Bastille's 'Joy' genuinely fun

(Story)

May 07, 2019

Thespian names 2019 – 2020 board members

(Story)

Apr 29, 2019

Spring Play comes to end, drama department prepares for changes next year

(Story)

Apr 29, 2019

'Endgame' fitting end to Avengers era

(Story)

Apr 24, 2019

Student Council names 2019 – 2020 officers

(Story)

Apr 15, 2019

Environmental efforts needed today to ensure tomorrow's future

(Story)

Apr 08, 2019

Life Skills classes compete at Job Olympics

(Story)

Apr 08, 2019

First episode of 'The Twilight Zone' reboot unexpectedly haunting

(Story)

Apr 08, 2019

'Free Spirit' another chapter in Khalid's musical journey

(Story)

Apr 04, 2019
Mar 30, 2019

Annual Salute to Broadway event canceled

(Story)

Mar 25, 2019

ESI cancels one event, Green Champions to sponsor another

(Story)

Mar 20, 2019

UK chart-topper 'Singing to Strangers' a worthy victor

(Story)

Feb 26, 2019

'The Umbrella Academy' an unexpectedly heartfelt message of family unity

(Story)

Feb 19, 2019

Winter Play celebrated as unique production

(Story)

Feb 05, 2019

Green Champions work to make district environmentally friendly

(Story)

Jan 29, 2019

Drama Department prepares for winter play

(Story)

Jan 28, 2019

Wildlife-centered media vital to protection of animals

(Story)

Jan 15, 2019

Illegal Intentions

(Story)

Jan 15, 2019

Thespians receive gold troupe ranking at state

(Story)

Dec 11, 2018

Class, department changes to occur in 2018-2019 year

(Story)

Dec 04, 2018

StuCo prepares for Club Feast

(Story)

Nov 28, 2018

StuCo completes prom theme vote

(Story)

Nov 15, 2018

'Newsies' performances bring excitement to cast, audiences alike

(Story)

Nov 12, 2018

Student Council hosts Red Cross blood drive

(Story)

Nov 06, 2018

Alonso leaves legacy of success and perseverance

(Story)

Oct 29, 2018

Thespian Kids Camp provides learning opportunity for area youth

(Story)

Oct 29, 2018

'Suncity' lacks cohesiveness, still has some shining moments

(Story)

Oct 26, 2018

Youth voting essential for midterm election

(Story)

Oct 20, 2018

Trump Rally brings Kansas into national news

(Story)

Oct 02, 2018

Thespians to collect canned goods for charity

(Story)

Oct 02, 2018

Environmental protection deserves spotlight

(Story)

Sep 27, 2018

Student Council hosts Regional Conference

(Story)

Sep 27, 2018

Fall Musical begins rehearsals

(Story)

Sep 17, 2018

Blue Light Journal to publish during 2018-2019 school year

(Story)

Sep 17, 2018

StuCo prepares for regional conference

(Story)

Aug 24, 2018

Modern connectivity beneficial to students, journalists alike

(Story)

May 24, 2018

Choirs prepare for final concert, continue traditions

(Story)

May 24, 2018

Two seniors attend Massachusetts Institute of Technology

(Story)

May 08, 2018

Mendes' 'Youth' anthem for modern generation

(Story)

May 08, 2018

Forensics competes at state, prepares for nationals

(Story)

Apr 25, 2018

District conducts community surveys for future improvements

(Story)

Apr 25, 2018

Forensics members qualify for nationals

(Story)

Apr 17, 2018

Weather complicates forensics tournament

(Story)

Apr 16, 2018

Immigration system not helping immigrants

(Story)

Apr 10, 2018

'Staying at Tamara's' brings Ezra back into spotlight

(Story)

Apr 10, 2018

Forensics competes at T-High tournament

(Story)

Apr 03, 2018

Students put on Harlem Renaissance event

(Story)

Apr 03, 2018

School prepares for Reach Out Day event

(Story)

Mar 13, 2018

Forensics team gains experience

(Story)

Mar 12, 2018

The Harlem Renaissance: A Time of Black-American Art

(Story)

Mar 06, 2018

Forensics gains experience at tournaments

(Story)

Mar 01, 2018

Online Sexual Harassment

(Story)

Feb 28, 2018

Forensics achieves one breakout at Silver Lake tournament

(Story)

Feb 28, 2018

Students assist in overseas operations

(Story)

Feb 06, 2018

'Sick Boy' thoughtful take on modern society

(Story)

Feb 06, 2018

State of the Union disheartening, Democratic rebuttal proves hopeful

(Story)

Feb 06, 2018

WaRu tournament learning experience for forensics team

(Story)

Feb 01, 2018

Lowdown on the shutdown

(Story)

Feb 01, 2018

Forensics finds success at first tournament of season

(Story)

Jan 25, 2018

Eating healthy: your new year's resolution

(Story)

Jan 25, 2018

'The Post' perfectly portrays journalist's struggles

(Story)

Jan 25, 2018

Missoula Children's Theatre works with area students

(Story)

Jan 23, 2018

Forensics prepares for first tournament of season

(Story)

Dec 19, 2017

Debate prepares for state, forensics season approaches

(Story)

Dec 19, 2017

Orchestra finds success at winter concert

(Story)

Dec 12, 2017

Students qualify for KMEA state choir

(Story)

Dec 12, 2017

Debate gains experience at national qualifying tournament

(Story)

Dec 07, 2017

Net Neutrality and You

(Story)

Dec 07, 2017

Chamber Choir helps ring in Christmas season at Festival of Lights

(Story)

Dec 07, 2017

Band, Orchestra, Choir students participate in musical event

(Story)

Dec 07, 2017

Marching Band Participates in Disney World Event

(Story)

Dec 07, 2017

Debate competes in two tournaments, prepares for large competitions

(Story)

Nov 14, 2017

Debate teams qualify for State

(Story)

Nov 09, 2017

Debate finds victory at Shawnee

(Story)

Oct 30, 2017

Debate Team takes first in Open Division at Topeka High Tournament

(Story)

Oct 16, 2017

On the Screen for Halloween

(Story)

Oct 16, 2017

Debate Students meet with DC Policy Maker

(Story)

Oct 02, 2017

Women Still Fighting for Rights

(Story)

Sep 21, 2017

Oh the Places to Go

(Story)

Sep 19, 2017

Debate team competes in first tournament of year

(Story)

Sep 12, 2017

Fresh Songs for Fall

(Story)

Sep 12, 2017

Coming Soon to a TV Near You

(Story)

Aug 28, 2017

Teens Deserve Respect for Political Interest

(Story)

Aug 28, 2017

Debate Team Prepares for First Tournament

(Story)

Dec 19, 2016

Block scheduling ineffective, needs reform

(Story)

Dec 04, 2016

Fracking a negligent practice

(Story)

Oct 16, 2016

MHS Marching Band to attend festival

(Story)