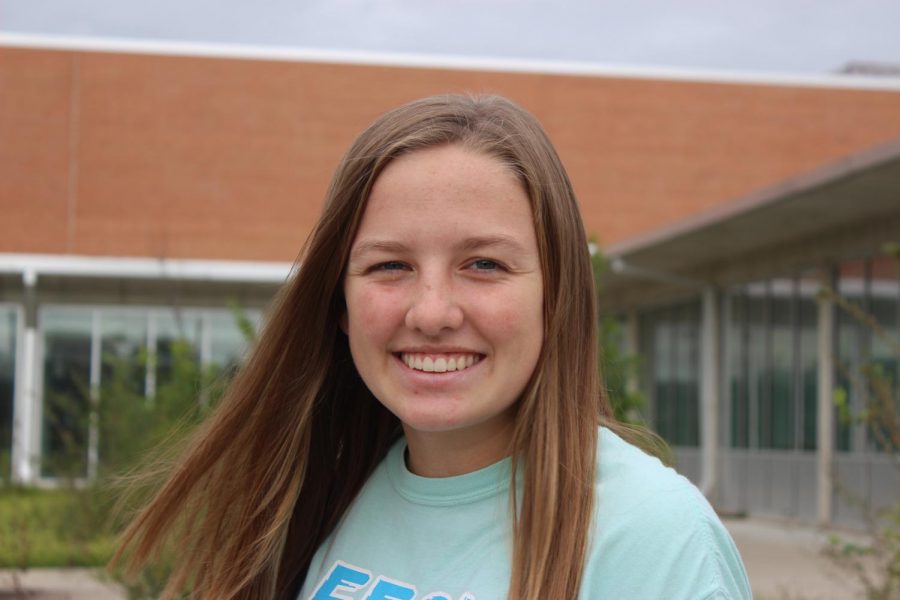 Aloera Ostermann, junior, is on her second year on the publications staff. She was introduced to publications through her older brother John Ostermann.
"He knew I would like it because I like designing things and he thought yearbook would help me learn," Ostermann said.
Although Ostermann is on the yearbook staff, she also writes for The Mentor newspaper weekly, where she covers FFA, AFS, girls soccer and intramurals. When Ostermann isn't working on staff she is playing basketball, painting or hanging out with friends. She hopes to go to college in state for design and basketball.
Aloera Ostermann, Blue M Visual Editor
May 13, 2019

Soccer ends regular season on high note

(Story)

May 06, 2019

Girls soccer wins both games, one postponed

(Story)

Apr 29, 2019

Girls soccer secures double wins

(Story)

Apr 22, 2019

Indians battle back to beat Topeka High

(Story)

Apr 09, 2019

Girls soccer bounces back from rough week of losses

(Story)

Apr 08, 2019

Lady Indians conclude rough week

(Story)

Mar 25, 2019

MHS girls soccer jumps into games right after break

(Story)

Feb 05, 2019

Intramurals begin championships

(Story)

Jan 15, 2019

Intramurals lacking in participation

(Story)

Jan 15, 2019

Students continue to make SubDeb dance a popular event

(Story)

Dec 11, 2018

Class, department changes to occur in 2018-2019 year

(Story)

Dec 04, 2018

Intramurals spark excitement

(Story)

Dec 04, 2018

Black Friday affects holidays

(Story)

Nov 15, 2018

Students welcome opportunity as election clerks

(Story)

Nov 15, 2018

Season's Greetings

(Story)

Nov 06, 2018

Play for Something Bigger Than Yourself

(Story)

Oct 29, 2018

Spanish Club joins Hispanic Club at HALO Conference

(Story)

Oct 29, 2018

Hispanic Student Union prepares for HALO Conference

(Story)

Oct 26, 2018

Students should start going on college visits earlier

(Story)

Oct 02, 2018

Students flip places for annual PowderPuff game

(Story)

Oct 02, 2018

MHS homecoming royalty crowned

(Story)

Sep 27, 2018

Journalists travel to State Fair

(Story)

May 24, 2018

Soccer beats Shawnee Heights

(Story)

May 08, 2018

Girls Soccer adds another win to record

(Story)

May 08, 2018

Recently founded Hispanic Club hosts fiesta

(Story)

Apr 26, 2018

Soccer continues win streak

(Story)

Apr 17, 2018

Girls soccer defeats Blue Valley 3-1

(Story)

Apr 10, 2018

Good Sportsmanship makes a big difference

(Story)

Apr 10, 2018

Girls soccer loses to Washburn

(Story)

Apr 03, 2018

MHS girls Soccer; Back and ready for more

(Story)

Apr 03, 2018

Hispanic Club Comes Into Action

(Story)

Apr 03, 2018

Seniors spread the word

(Story)

Mar 06, 2018

Girls basketball endures tough game, sub-state champions

(Media)

Mar 06, 2018

Students simulate playing a part in the government

(Story)

Mar 01, 2018

U.S. scores lowest Olympic medal count in 20 years

(Story)

Mar 01, 2018

Intramurals end with intensity

(Story)

Mar 01, 2018

Online Sexual Harassment

(Story)

Feb 06, 2018

Manhattan High Retirees of 2018

(Story)

Feb 05, 2018

Students party it up at SubDeb

(Story)

Feb 01, 2018

Learning About Argentina

(Story)

Jan 25, 2018

Kill 'em with kindness

(Story)

Dec 12, 2017

Bitcoin: What is it?

(Story)

Dec 12, 2017

Get the facts on Bitcoin

(Story)

Dec 07, 2017

MHS student gets elected for national choir

(Story)

Dec 07, 2017

Student Athletes need more time off over break

(Story)

Nov 28, 2017

The holiday of Thanksgiving: its true origin, meaning

(Story)

Nov 10, 2017

A Place Where We Can All Be Safe

(Story)

Oct 30, 2017

Volleyball takes fourth at state for second year, individuals make all team

(Story)

Oct 30, 2017

FFA goes to annual yearly convention

(Story)

Oct 16, 2017

Haunted adventures: Places to get your scare on for Halloween

(Story)

Oct 03, 2017

Manhattan High goes loco for hoco

(Story)

Sep 21, 2017

Getting out and about in MHK, fun outdoor activities

(Story)

Sep 11, 2017

A Rise in Robotics

(Story)

Sep 11, 2017

FFA School Kickoff

(Story)

Sep 07, 2017

A Rise in Robotics

(Story)

Sep 07, 2017

FFA School Kickoff

(Story)